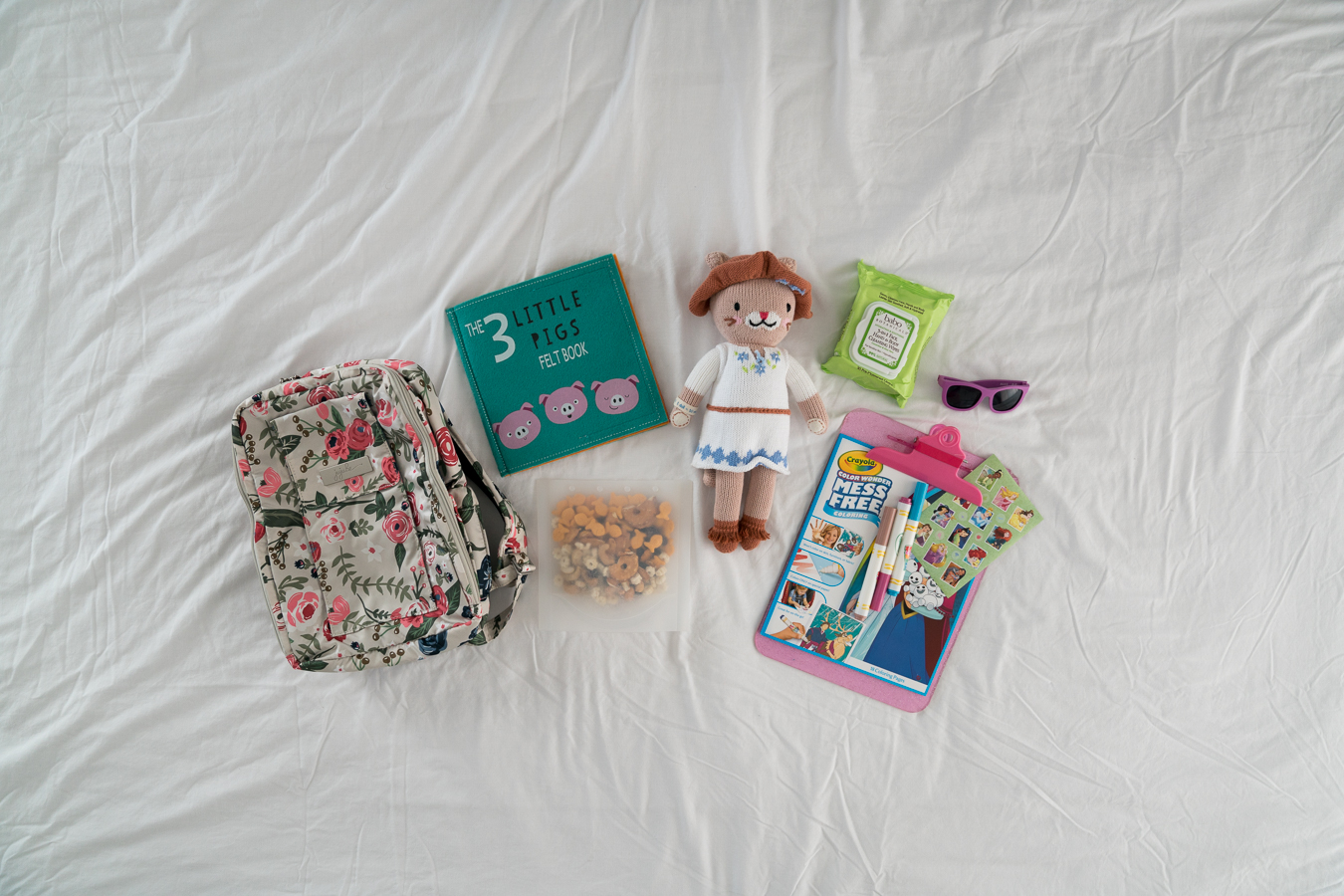 If I'm being honest, spending 5 hours in the car with two little ones is not ideal under any circumstances. Then when you consider the breaks to nurse, get out the wiggles, and use the bathroom (I have to admit that I am the guilty party here since my toddler isn't even potty trained) it turns into more like an 8-hour trip. I can't promise that these things will make it all rainbows and butterflies when traveling with a toddler, in your car, for hours, but I can tell you that these things made our road trip a lot easier and more tolerable.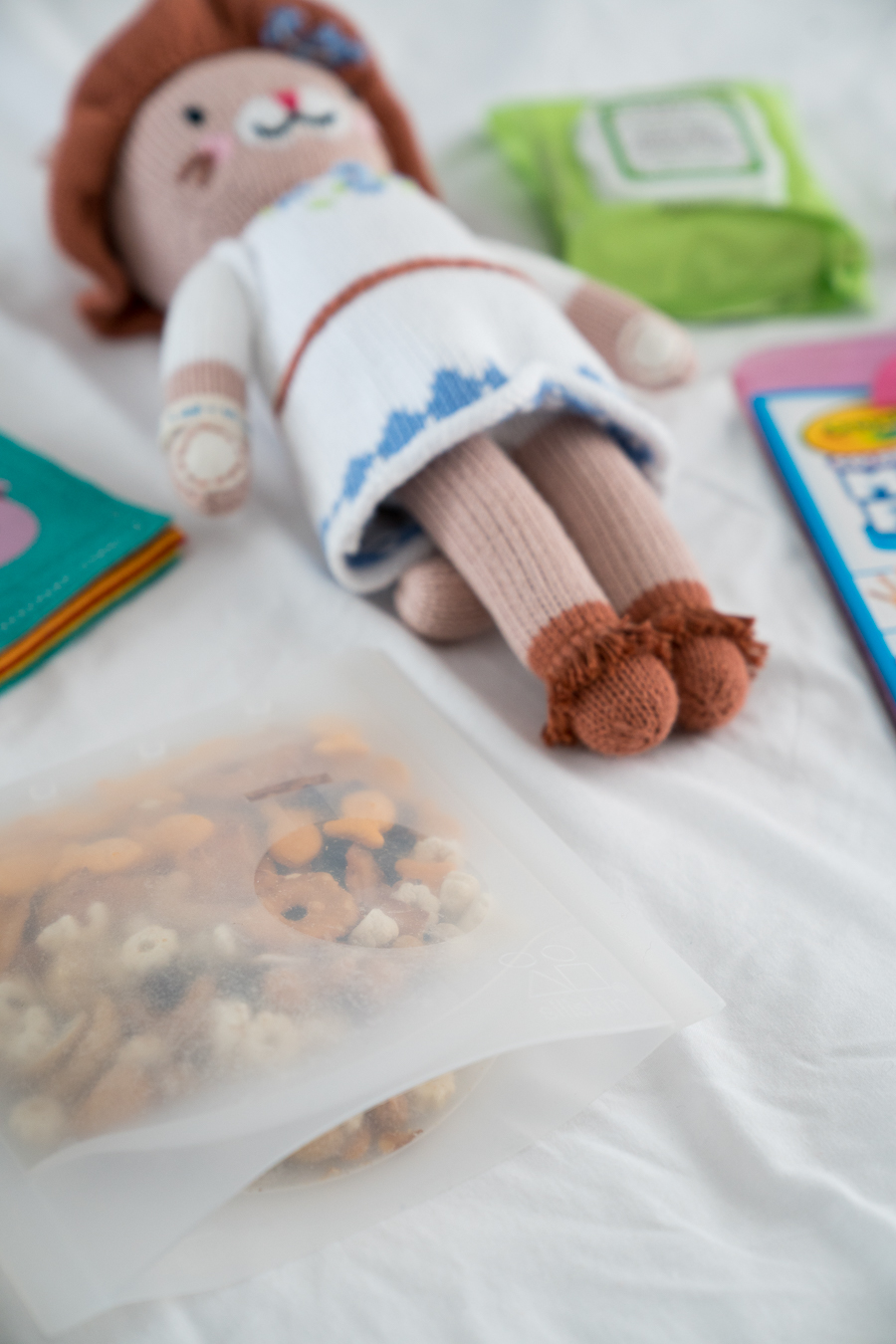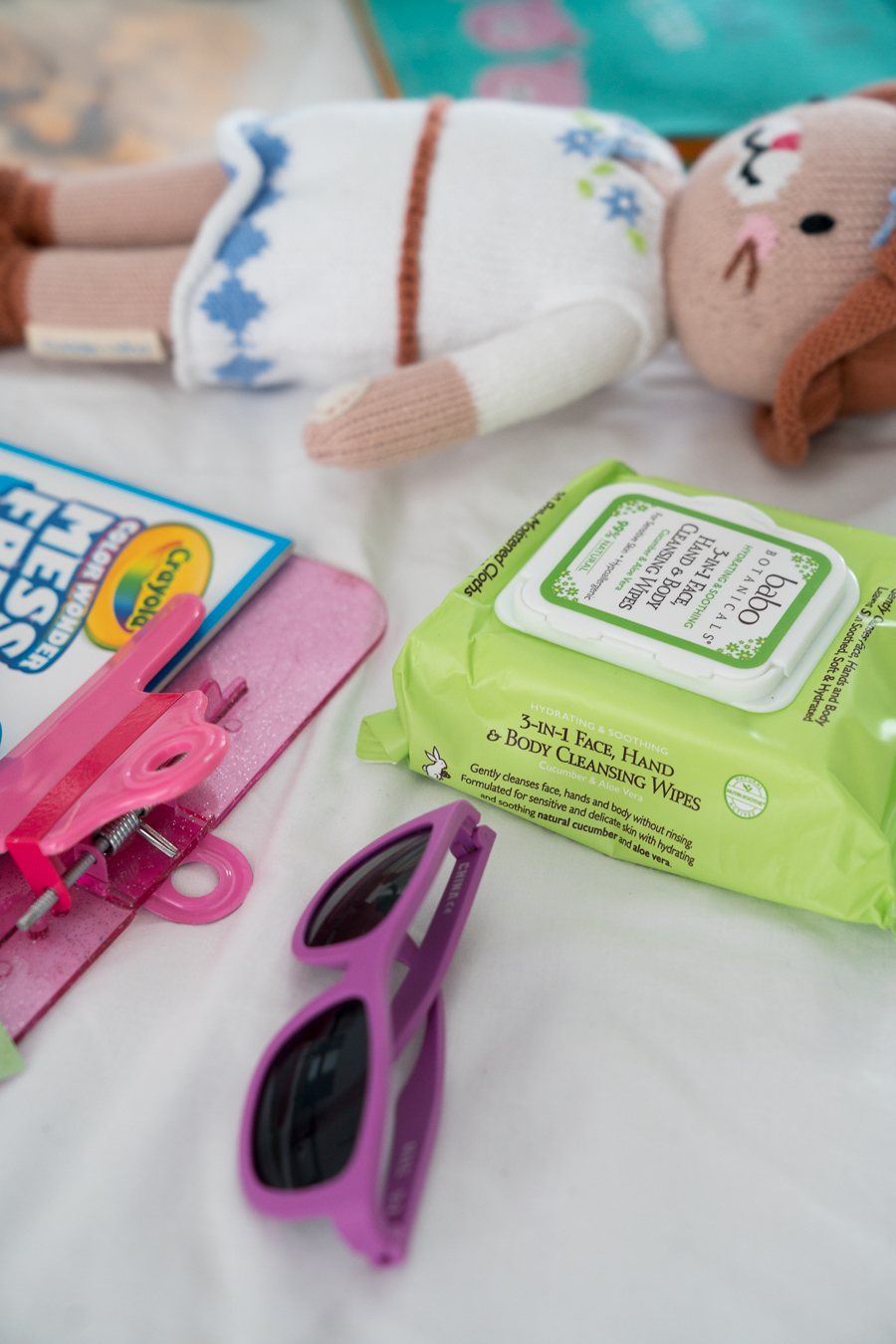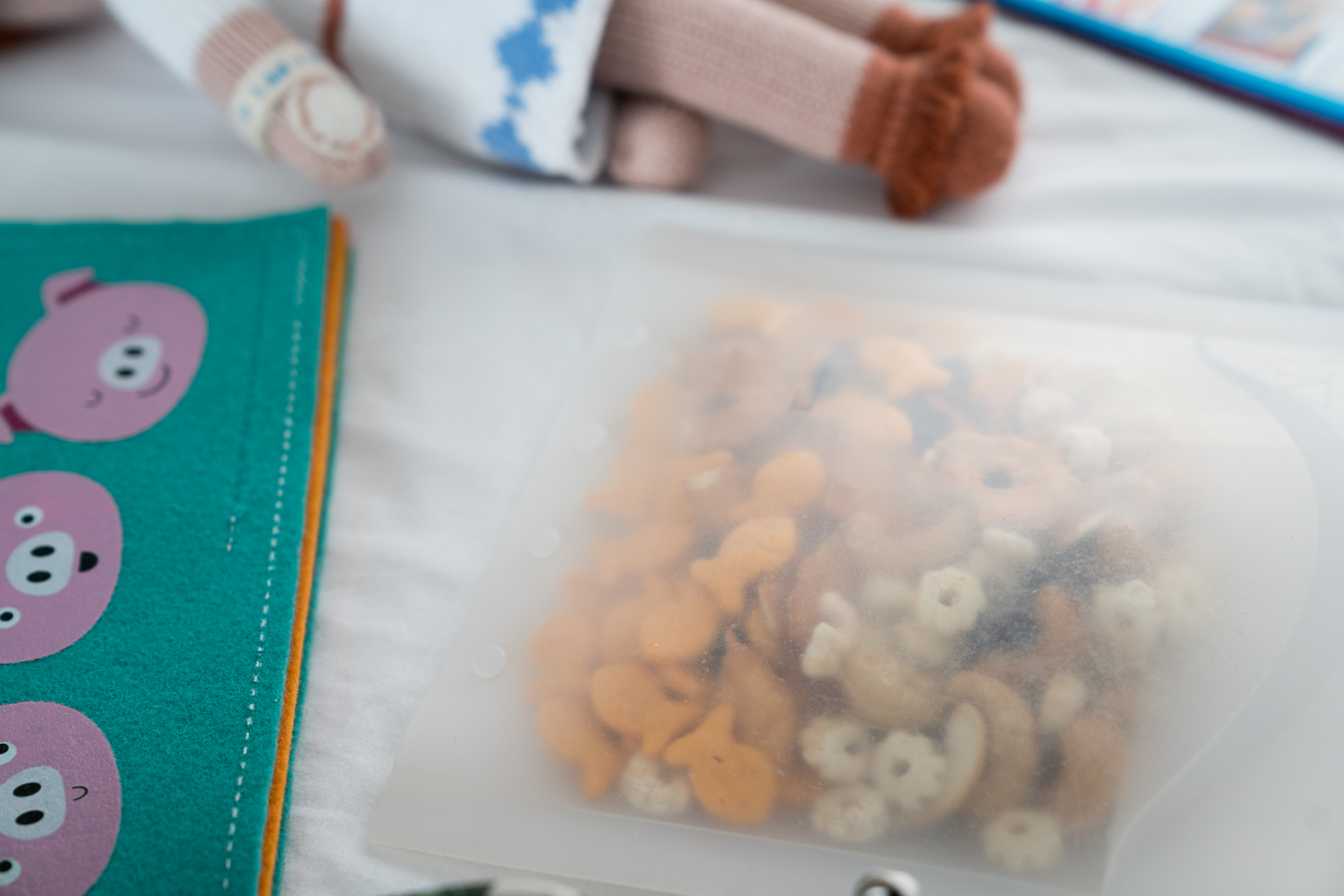 ---
10 things you need for a Road Trip with a Toddler
Crayola color wonder book & markers and a clipboard: I admit that I have seen these at Target a thousand times and wanted to buy them. I just never felt like I could fork over the big bucks when Elouise was perfectly happy with her dollar store coloring books. However, girlfriend is really into coloring lately and when I thought through the logistics of her coloring in the car I couldn't get over the potential mess factor. So I went for it guys, I paid the price for the magic mess free markers, and I don't regret it one bit. She loves it and I love that there is no mess on her clothes or car seat. I will add that one of the most essential factors of a happy toddler coloring road trip experience (say that 10 times fast) is a clipboard. Just trust me!
Snacks: Okay, I cannot stress this enough, you NEED snacks. Think you have enough? Nope, go grab some more. I love making my own "trail mix" and storing it in Silikid's silieskin reusable snack bags.You can see through them, they are reusable, safe, and you can throw them in the dishwasher. They also have these amazing travel placemats that are perfect for food pit stops on the road. If you don't have any Silikids products yet, you need some.
Wipes: Bring a pack of wipes just for car use, after snacks and such you'll probably need to do a good wipe down from the front seat. I suggest wipes that are great for faces and hands. I also hate the way my face feels after

 a 

few hours in the car so I like these Babo Botanicals wipes because they also are good for mama's face. Win-win-win!
Busy books: Have you guys heard of these yet? As a Kindergarten teacher, I used to make these to keep in my classroom for my students to use during free time. You can make them yourself (here's a super cute DIY tutorial), buy them online (here), or you can do like I did and score some in the Target Dollar Spot.
Kids sunglasses with UV protection: This is one that I learned the hard way. Our favorites are these from Babiators. The bonus is that these are maybe the only sunglasses that fit on Elouise's head!
Portable essential oil diffuser: You know I'm oil obsessed, and they literally have been saving my me on the daily. We got a nifty diffuser that hooks up via USB port so we had it going in the car with a few different blends. Stress away and tangerine were my two favorites though. Here are two of my favorite USB diffusers (1 & 2)
Toddler sized bag: I don't know about yours, but my toddler is obsessed with purses and backpacks right now. She fills them to the brim with toys and other odds and ends and carries them around the house, to Target, and pretty much anywhere else I'll let her bring it along. We got the freaking cutest toddler sized MiniBe backpack from Ju-ju-be in the sweetest Rosy Posy print, but any little bag will do fine.A toddler sized bag is also great because you can keep it close to them so they can access the goodies you stuff it with and it won't take up a ton of room in your already packed mini-van. Wait you don't have one of those? If you don't have a mini van, fine, but if you don't overpack I'm not sure we can be friends.
Cuddle buddy: There will be, at least, one time where your kid starts to get sleepy and if your babes are anything like mine they like to cuddle a stuffed animal. We have a few favorites at our house and so we bring them all because a cuddle from your favorite little friend can turn almost any frown upside down.
Stickers: Need I say more?
Some form of electronic entertainment: Okay, get off your high horse and just bring the dang iPad or the dvds for the sweet built in tv system in your 15-year-old mini van (we're living our best life over here).
---
Hey girl, go ahead and save me to your favorite Pinterest board: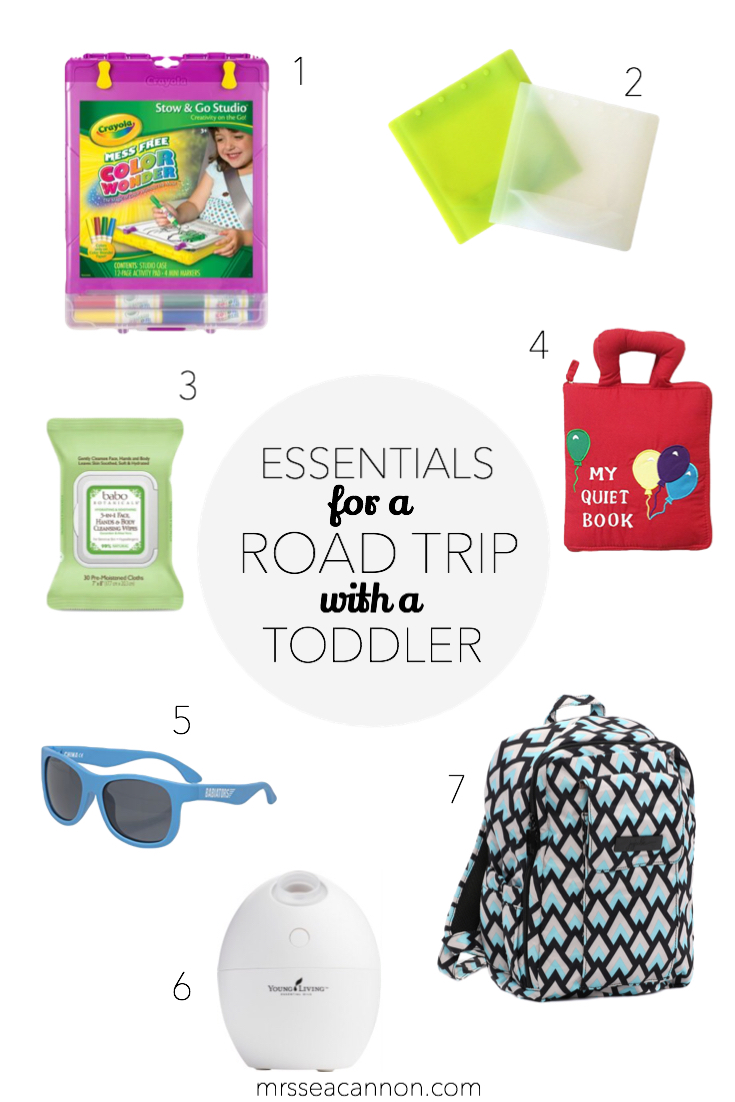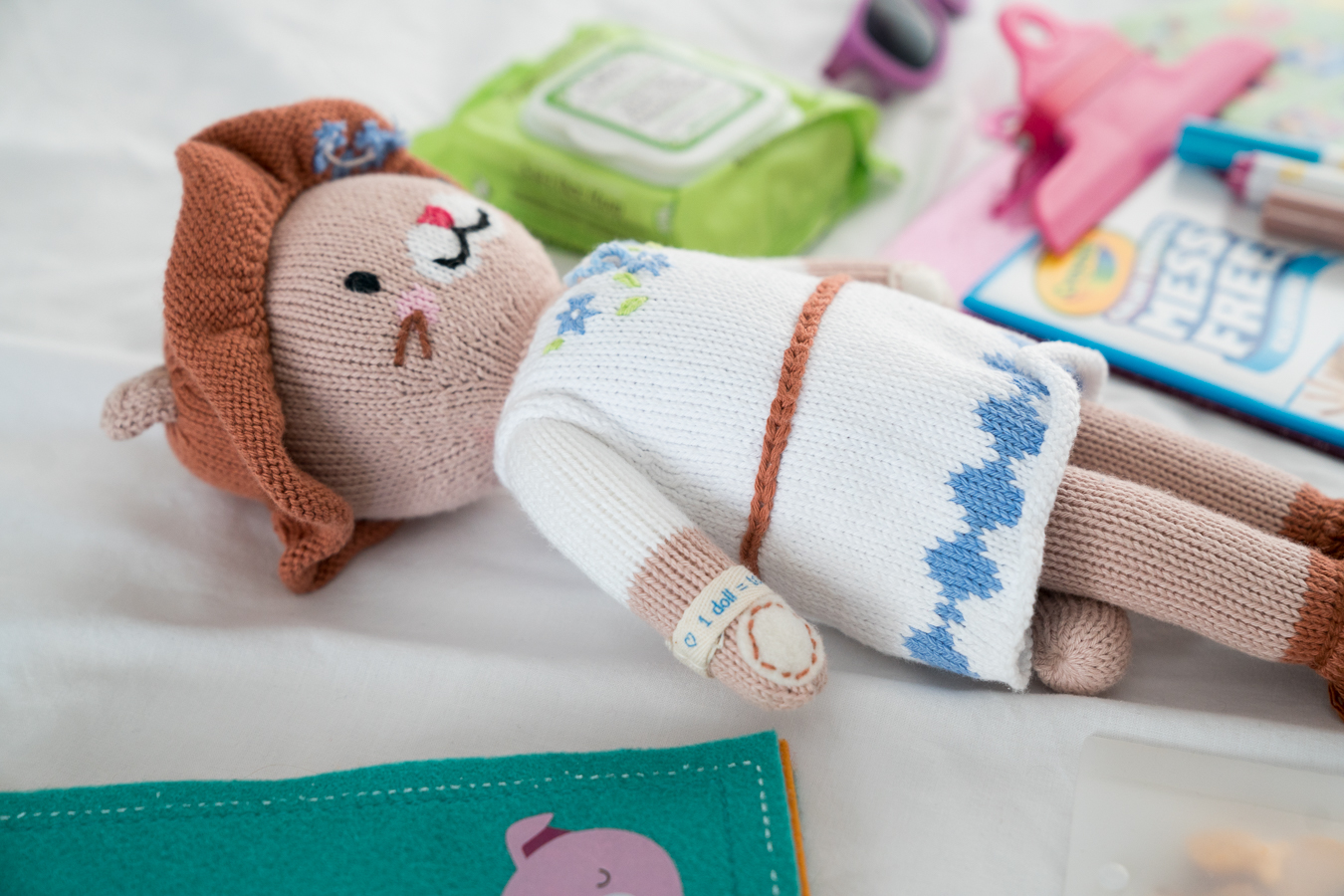 These things actually have a two fold purpose because all of them come in really handy for down time at the hotel. The color wonder markers are great because it means no accidental murals in your hotel room. Busy books are fabulous to stay entertained during quiet time in the room. Essential oils diffuser is a must for nap time and bedtime. I'm not sure if I would add anything else to this list from my experience, but I know there must be things I'm missing! What do you all consider must haves for a road trip with littles?