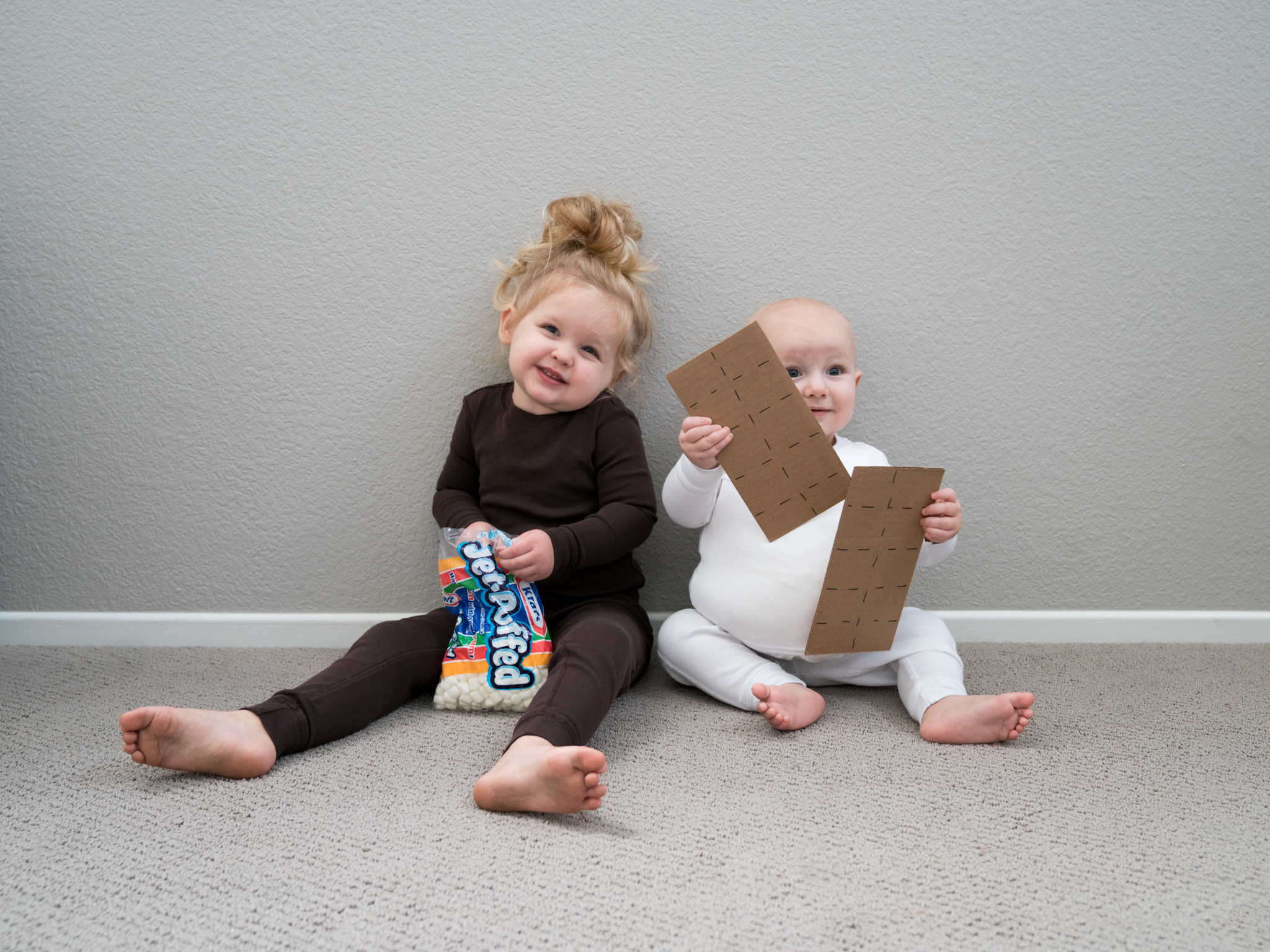 I am SO excited that it's October!! To me, it's the start of the holiday season. I honestly never felt this way before I had kids, but I basically find a way to celebrate everything now. Wait, you mean you didn't give your kids a basket of Halloween themed goodies on October 1st? And yes, that includes all sorts of things for my 10-month-old. Duh, I know I'm crazy and that he (and probably not Elouise either) won't remember his jack-o-lantern sippy cup when he's in his 20's but it sure made him happy today! Long story short, I go overboard for holidays now, it's just who I am. For Halloween costumes this year I wanted to make it super fun since I have two tiny humans to dress. I am totally down for the family costume but my hubby doesn't love them and the 31st is also his birthday so it's only fair for me to let him off the hook. It was so fun for me to come up with ideas that I decided to put together a whole blog post. Now, these costumes aren't the pre-made store bought ones (and there's nothing wrong with those, the stores just don't sell these ones) and they also aren't the crazy DIY kind with sewing and paper mache. In fact, every one of these starts with clothes from one of my favorite brands, Primary. Solid colors, no logos, cozy, and totally going back into my kid's dressers after Halloween. The rest of the details were all things I grabbed from around my house or super cheap do-dads, I'll link as much as I can for you guys!
The Pencil
 
Items Needed:
Tips & Tricks:
You can use a regular sized party hat if you prefer. Just unfold the party and trace onto the paper in order to make it fit properly when adhering it to the hat.

---
The Pillsbury Doughboy aka The Tiny Chef

Items Needed:

---
The Deer

Items Needed:
Tips & Tricks:
The headband I used was from Daydream Republic and it was already something we had at our house. I loved it because I liked the floral touch. You can really use whatever headband you want. I used the felt to adhere the brown paper to the Mickey ears on the headband so if you opt for a regular headband you might find it helpful to snag some pipe cleaners for a little bit of structure in the ears. You can adhere the faux fur to the top any way that you'd like, although safety pins are the easiest way in my opinion.

---
The Piña Colada

Items Needed:
Tips & Tricks
To make the pineapple hat I hand drew a "leaf" and then traced it so I had about ten leaves. I bent them up a little bit and taped them on the paper towel roll. I poked a few holes close to the bottom and that's how I was able to get it to stay after I slid it over Elouise's top knot. For the coconut hat, I just painted it and glued on some moss! The paper umbrella is obviously not a necessity but it was so dang cute and so cheap!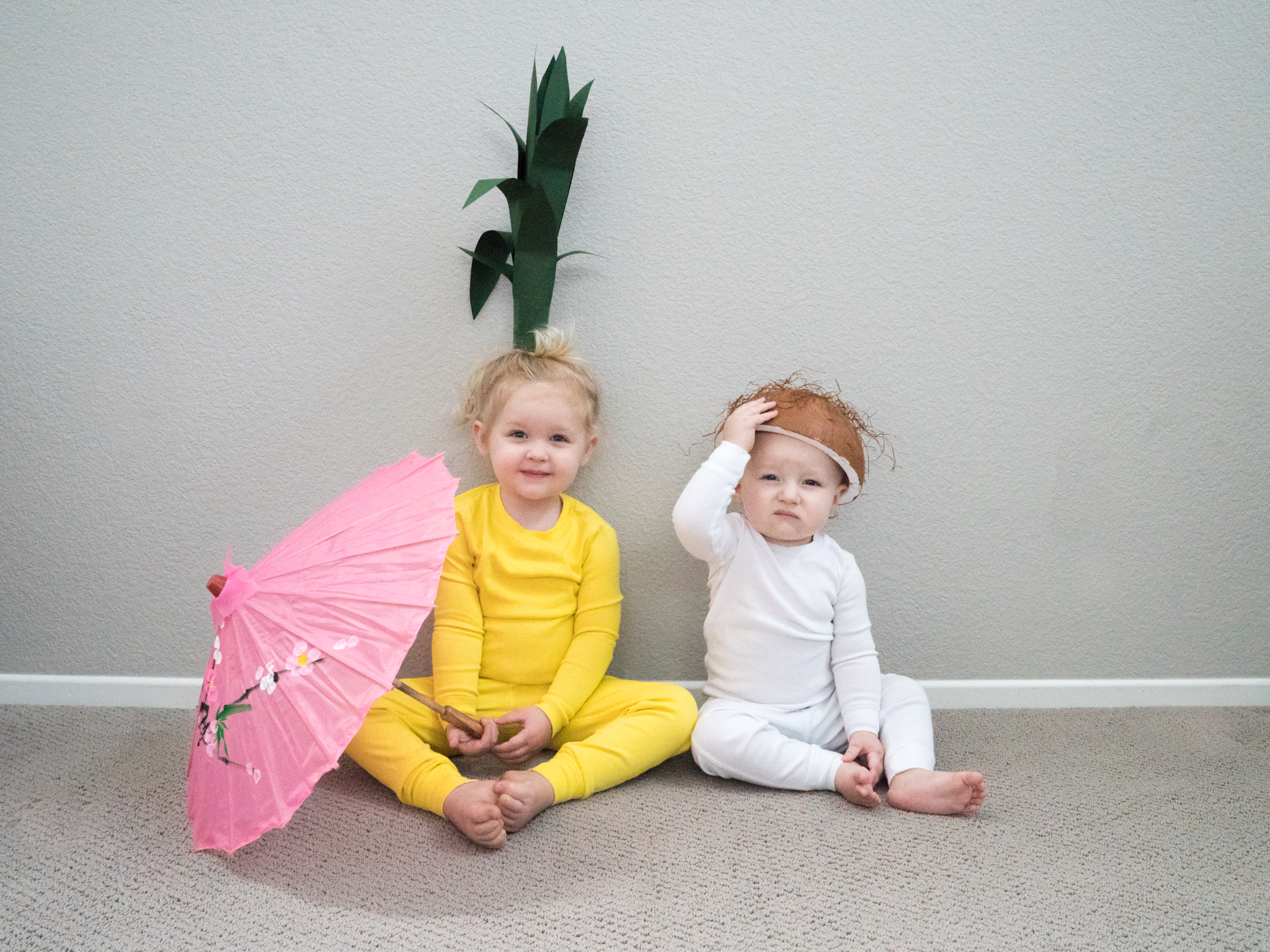 ---
The Baby Dinosaur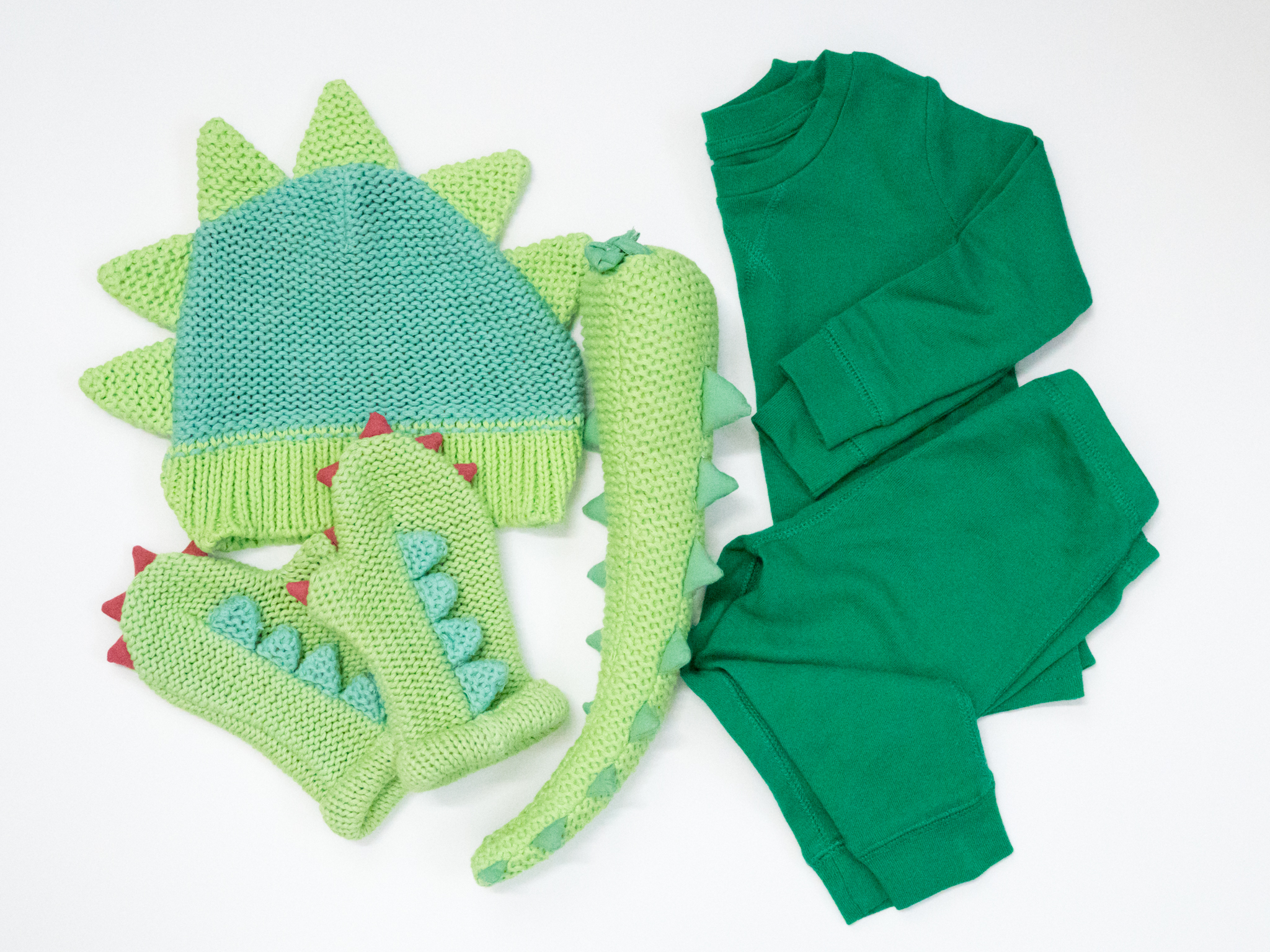 Items Needed:
Tips & Tricks
Okay so for this one, we already had the dino pieces. If you do not have these items let me tell you why this is still worth it to purchase for a costume. The dino accessories are actually dress-up and we all know that dress-up is year round. The stage also lasts for years and is something both boys and girls will love. To prove my point after we took this photo Elouise wore the dress up pieces for the rest of the day!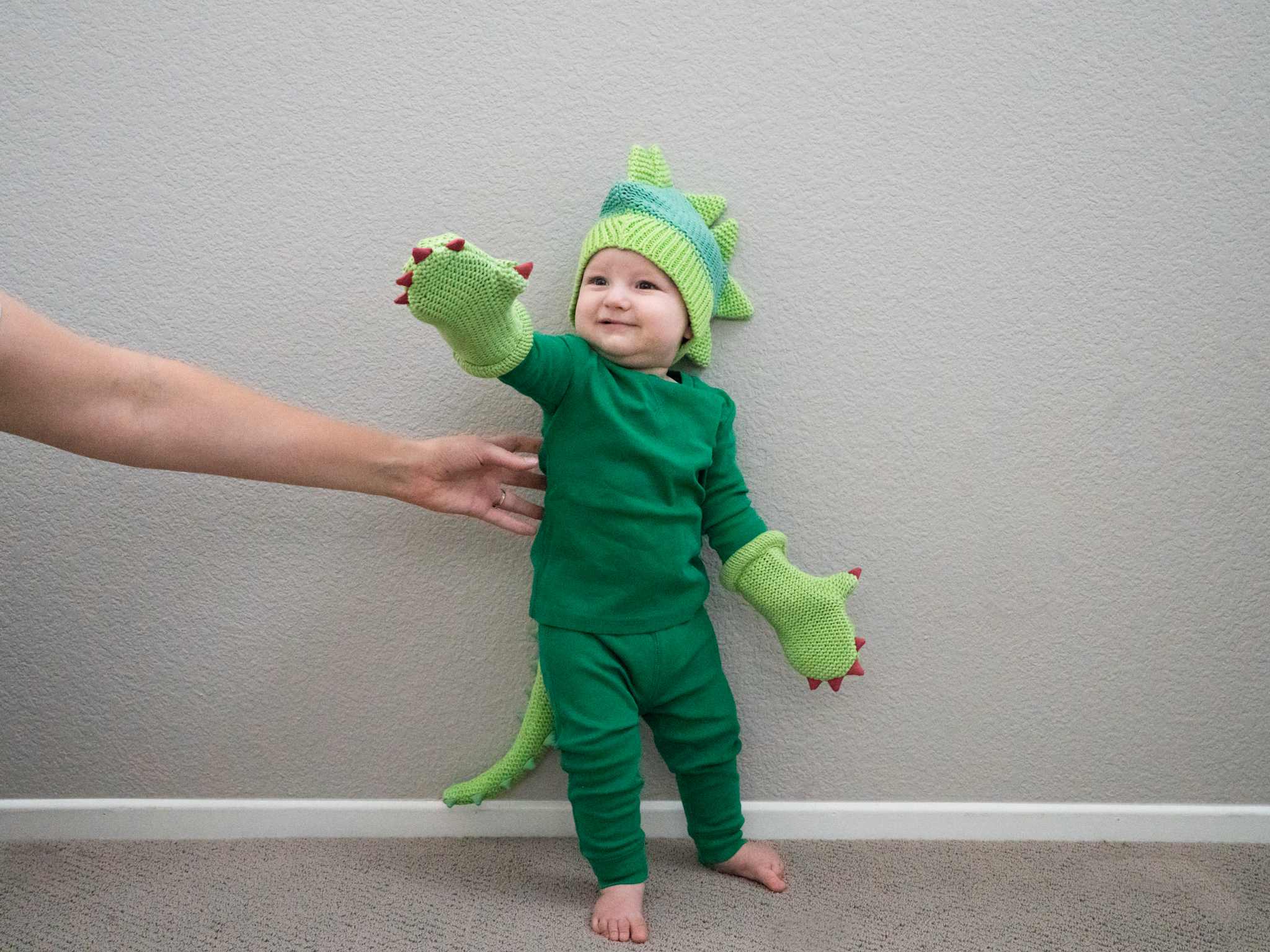 ---
S'mores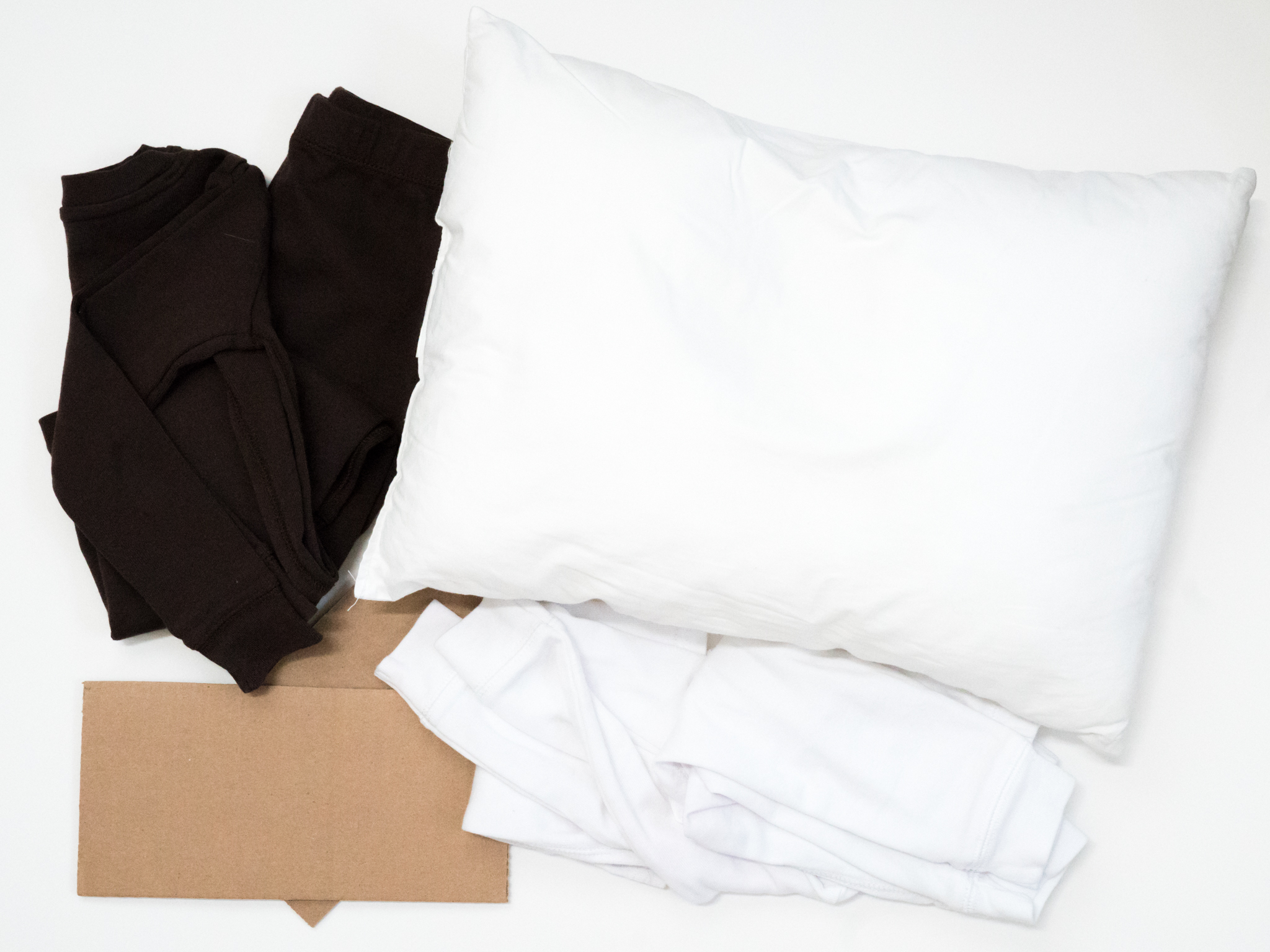 Items Needed:
Tips & Tricks
Use a black marker to draw some dashed lines on the cardboard to make them look like graham crackers. The toddler pillow is what makes the little marshmallow sweet and squishy, just jam it under the shirt and voila. If you have a bigger family, you can add more chocolate, marshmallows, or even make other kiddos into the graham crackers.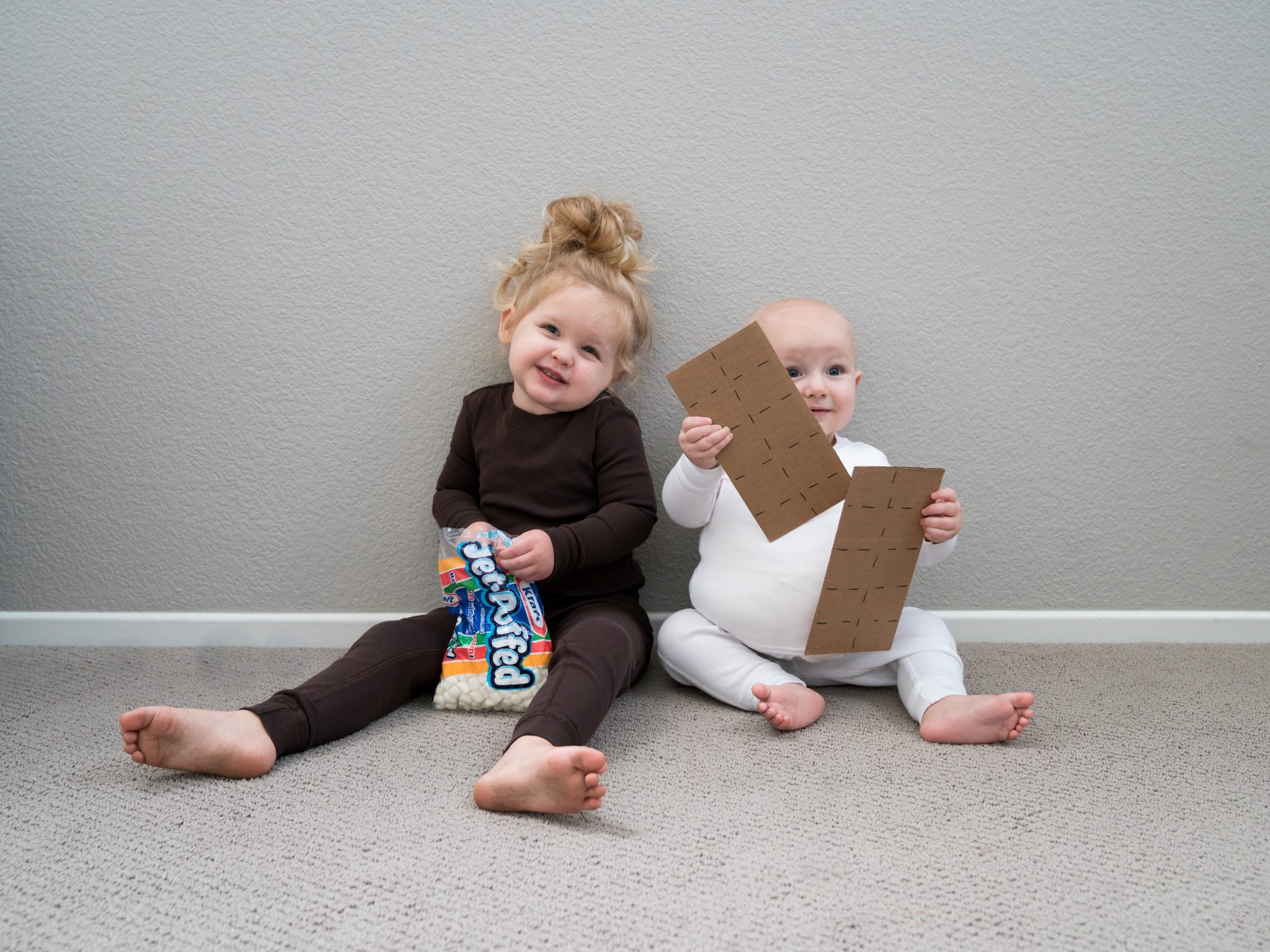 Hey girl, go ahead and save me to your favorite Pinterest board: