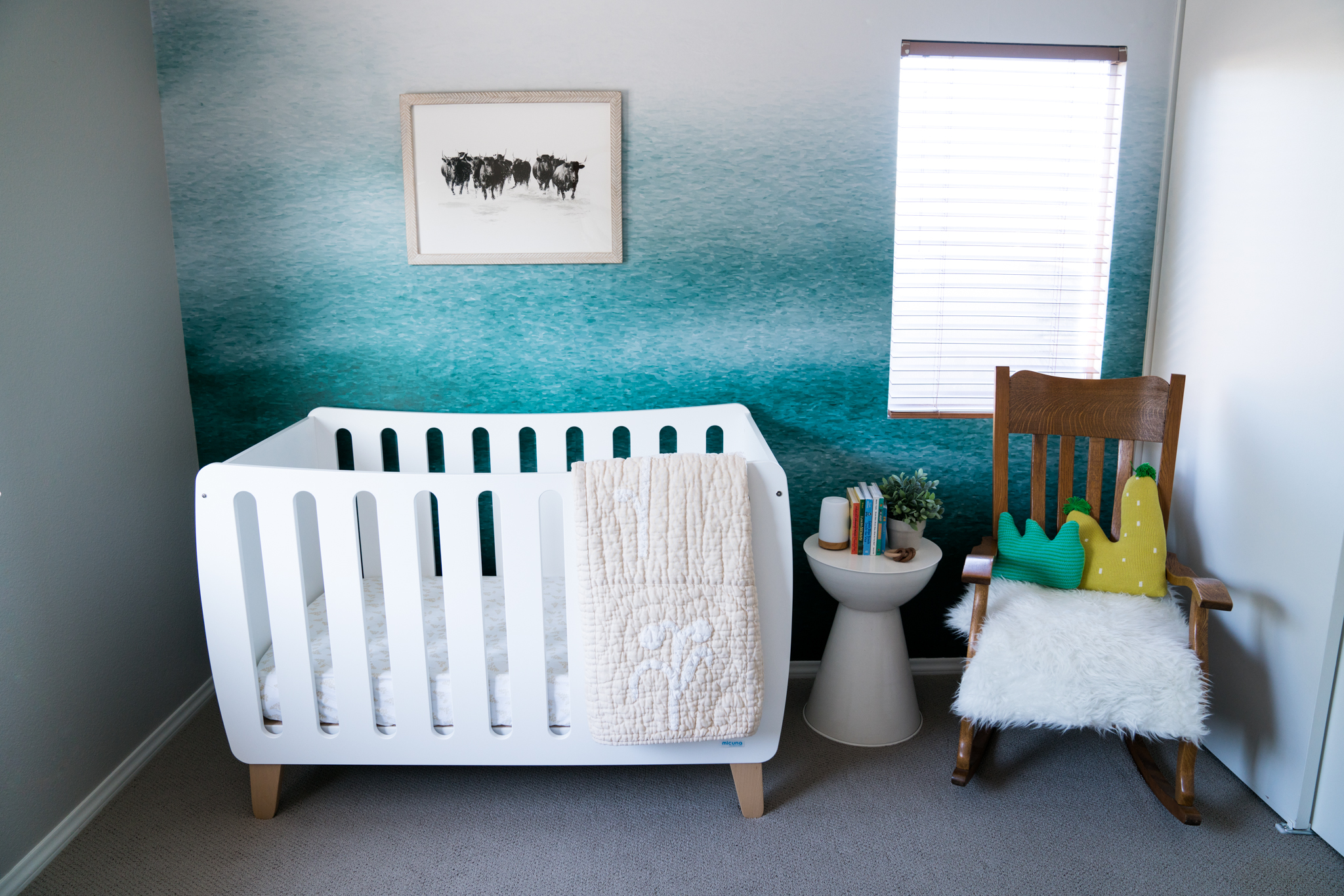 I am so incredibly beyond excited to share Sully's room with you guys. I poured my heart into this project. Mostly because I don't think I was emotionally ready to have him in his own room since Elouise slept in our walk-in closet at our old place until she was 22 months. There were a few things I knew I needed in his room and then I kind of let the rest fall into place. I have always loved the look of "intentional clutter" but lately I've really been drawn to minimalist decorating. It's almost more of a challenge because you really have to make the things you pick out count. I worked really hard to pull every detail together down to coordinating the two different colors of wood even into the tiniest details. I'll share a little bit of insight as to how I pulled everything together below. I've linked everything at the bottom of the post for you guys and some of the links I'm sharing are affiliate links, so if you chose to buy something through them you'll be helping support my family, which I appreciate more than you know.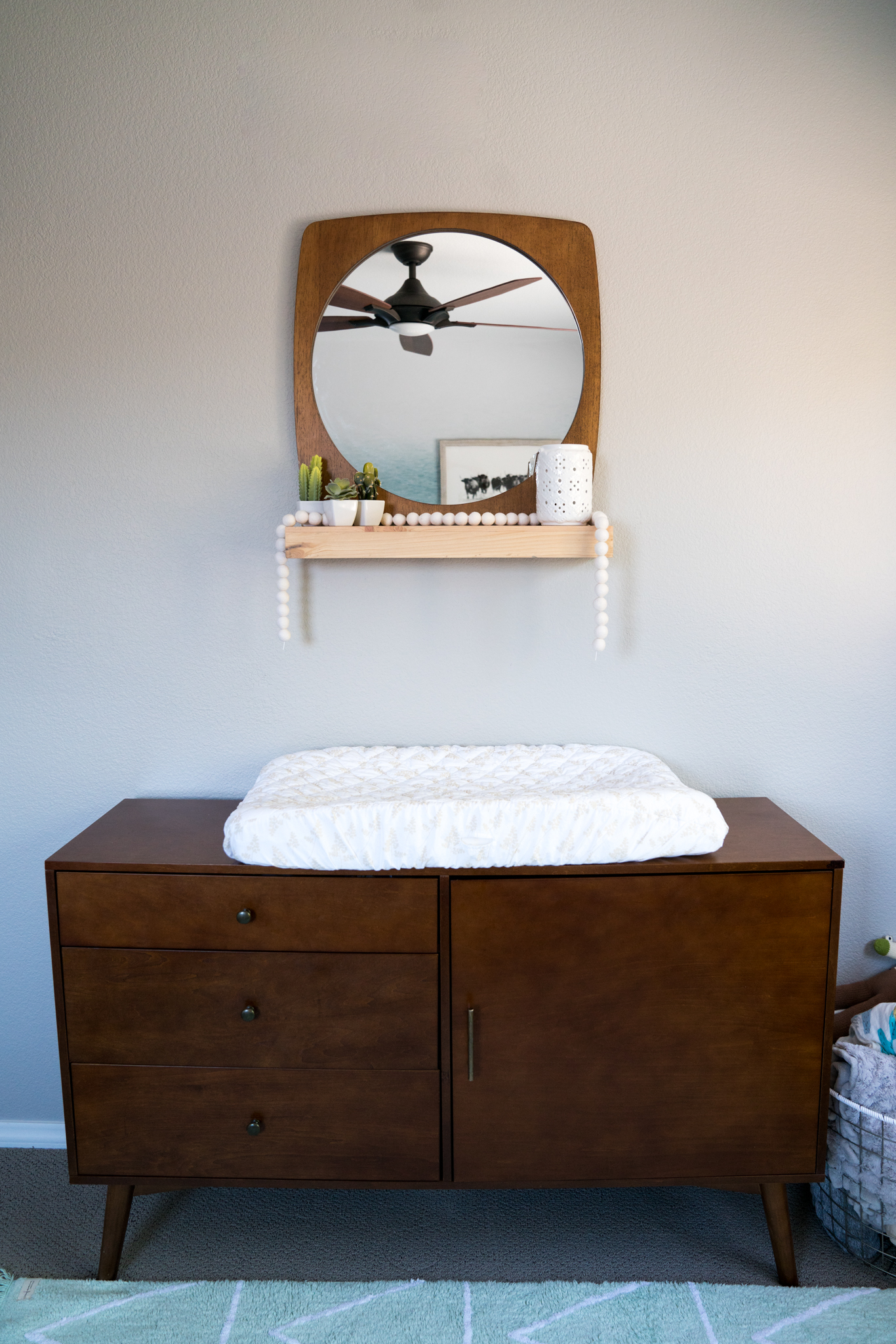 We started the whole process with the wallpaper from Shop B Darling. We did an accent wall in Elouise's room and the process was such a breeze that it was a no-brainer when it came to Sully's room. Shop B Darling has the cutest prints and patterns and they are removable which means that we don't have to miss out on the cuteness because we are in a rental. We LOVE how it turned out, and based on your comments on my sneak peek photo you guys love it too!  Since it was such a standout part of the room I was really careful about the things I chose to hang on the wall. I didn't want anything to be competing with the big, bold, pattern. I decided on a small-ish black and white photo for above the crib. The frame is a very subtle herringbone of pine and white. All of the big pieces in the room are either pine, white, or walnut. Even the tv console we decided to use as a dresser is walnut although it photographed slightly darker. In person, it's identical to the perfect Target mirror that I found on clearance months ago. I have a tendency of finding "key" pieces at a good price and snagging them even though I may not have a specific place for them. It has to be a super good deal though, I paid $14 bucks for this bad boy. I linked a similar mirror below since this one isn't available anymore. The Land of Nod was the obvious choice for his crib bedding, they have so many options that are timeless with a trendy twist. That's why I loved this organic crib sheet and linen quilt. Plus, it's totally gender neutral, so if any other babies make an appearance down the road I'll be good to go. Gotta love a good hand me down! Speaking of handing things down, let's talk about the rocking chair. My grandparents actually bought this chair for my mom when she was pregnant with my older brother. My grandma refinished it and my grandpa re-upholstered it into the dusty rose colored cushion it is now. At first, I was dead set on reupholstering it again to something more "boy" room friendly that matched the color palate. I kept putting it off though, and finally, I realized I just couldn't do it. My grandpa passed away a few months before I got pregnant with Elouise and it breaks my heart that my kids will never know him, so by keeping the chair as it was I feel like a little part of him lives on in my house. I did end up throwing my IKEA faux sheepskin run on it to tie it into the color palette but underneath it still remains that same dusty rose. I knew I wanted a little basket for toys and blankets, peek a boo is his jam, so he could have few things easily available for time spent in his room. Originally I played around with having things out on the dresser but decided to stick to the minimal feel and keep all diaper changing necessities in the top drawer. Finally, the Dock-A-Tot because my child would not sleep without it, it's essential to the happiness of our entire home.
If you got through all of those details, bless you for caring enough to read my rambling. Now let the nursery spam begin!
---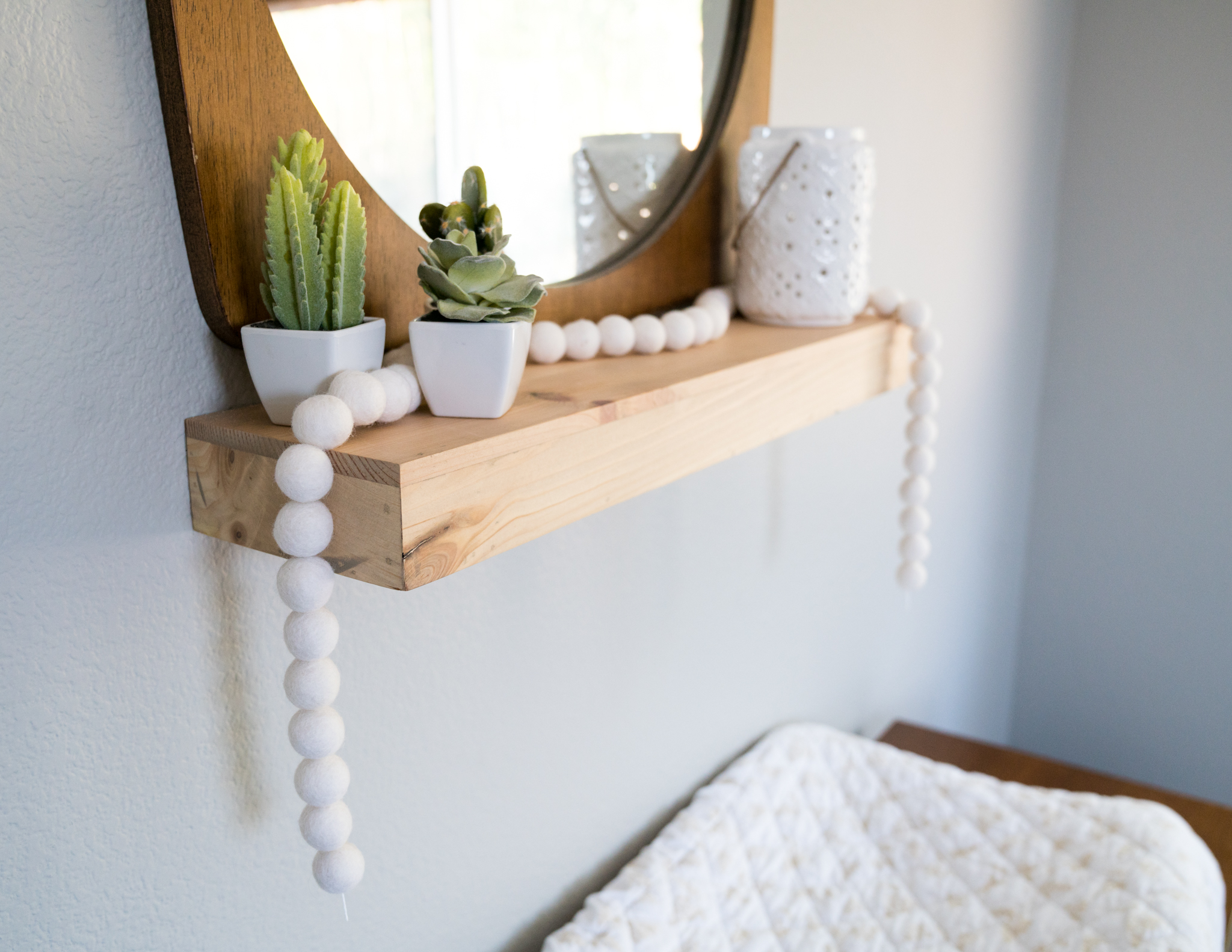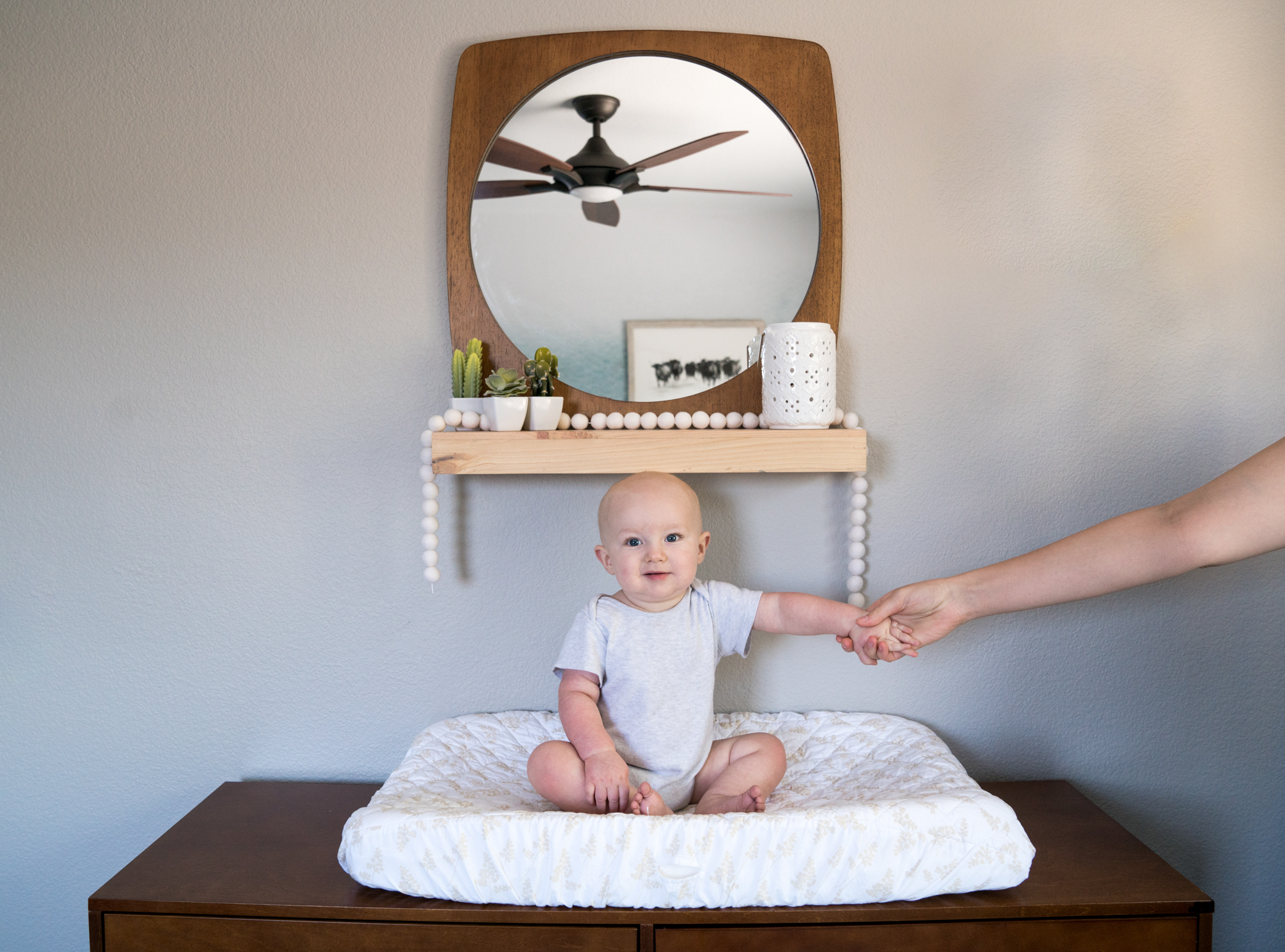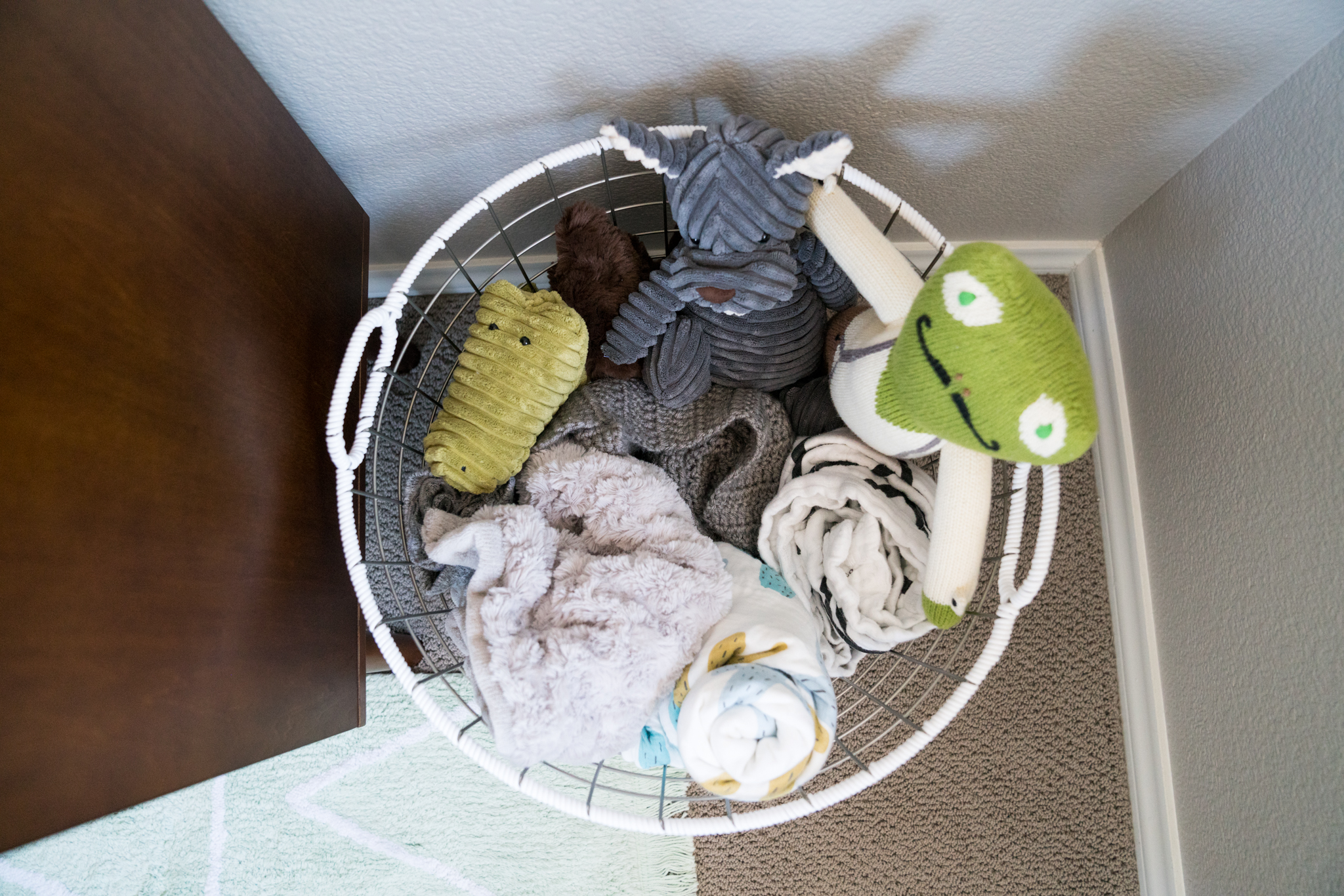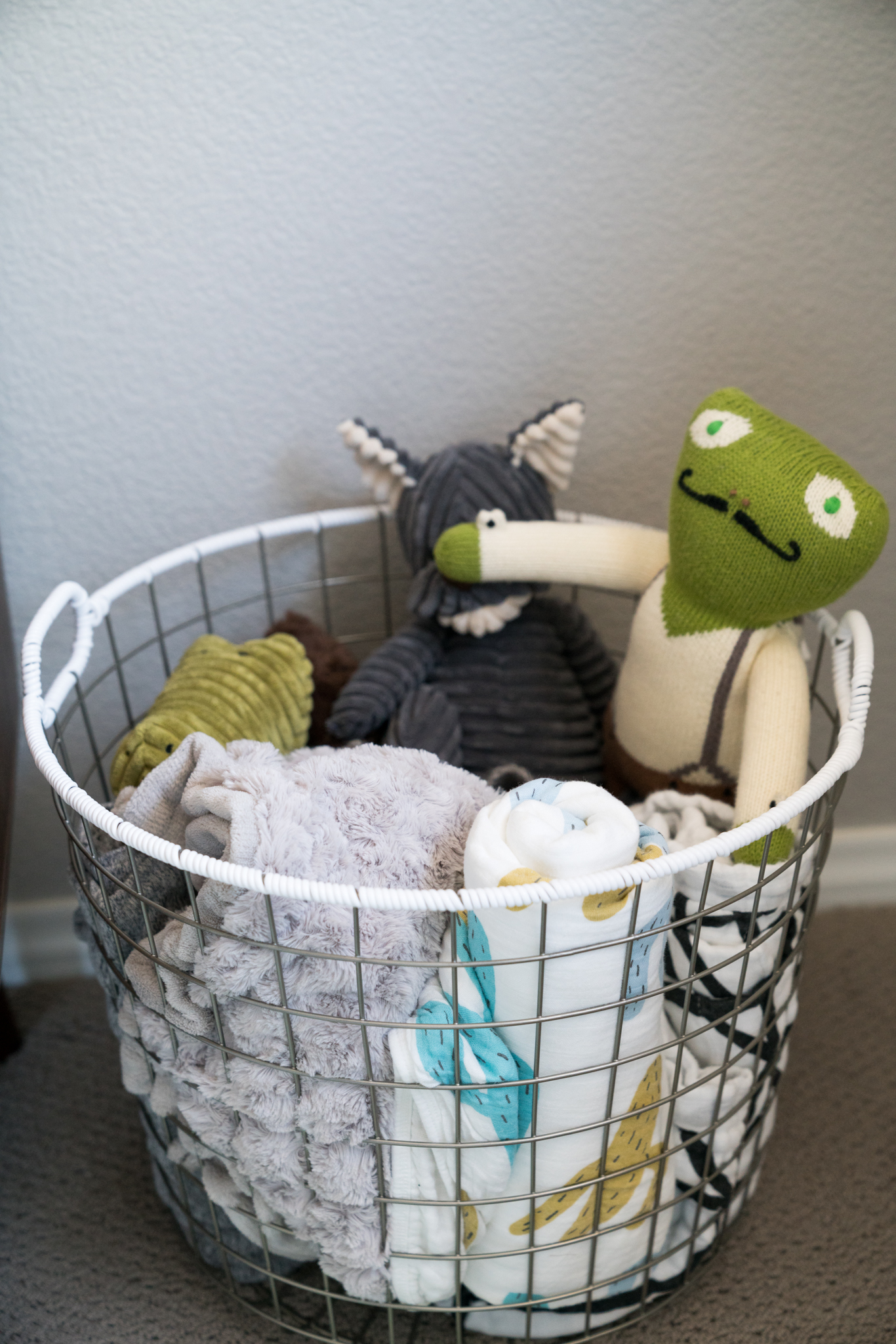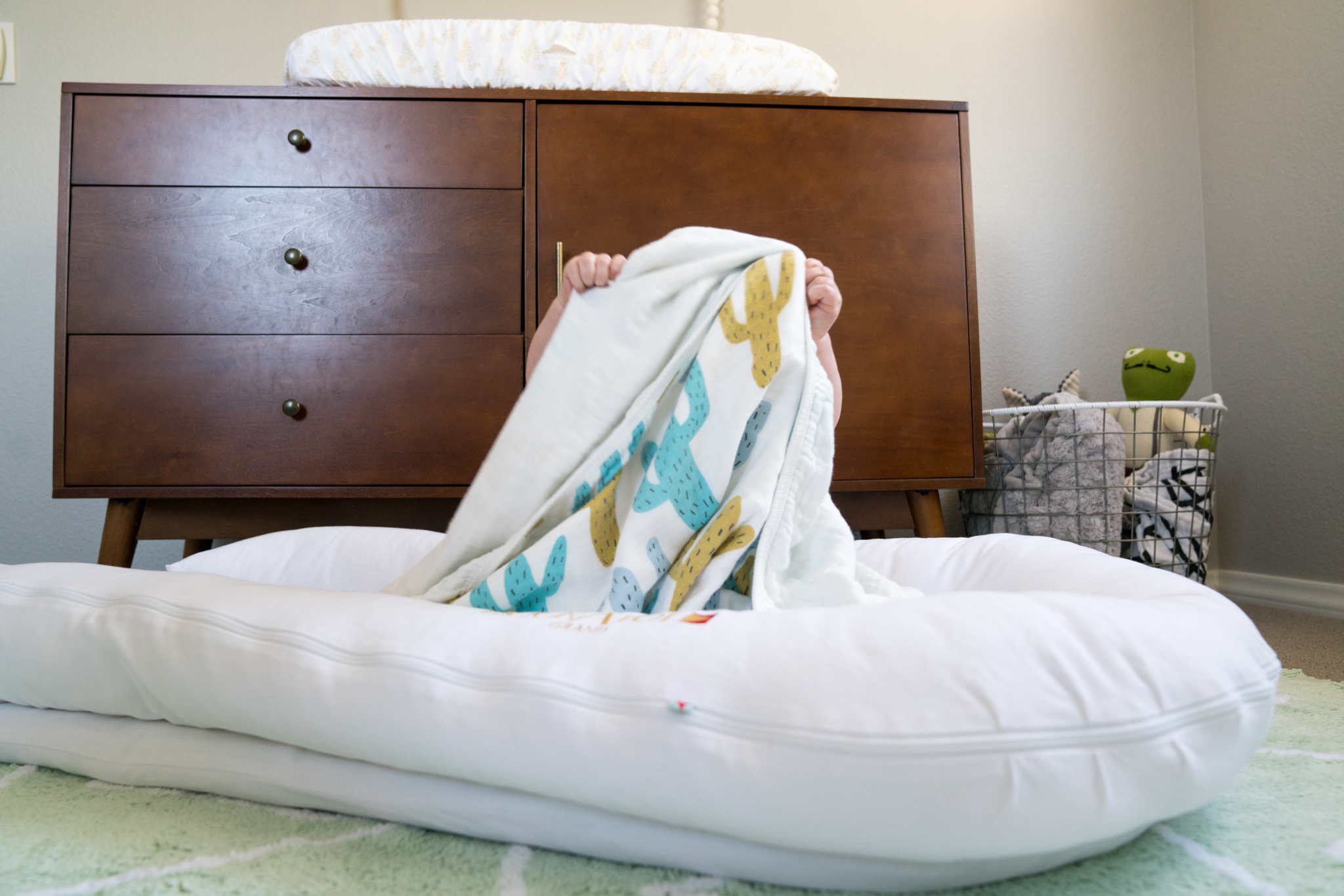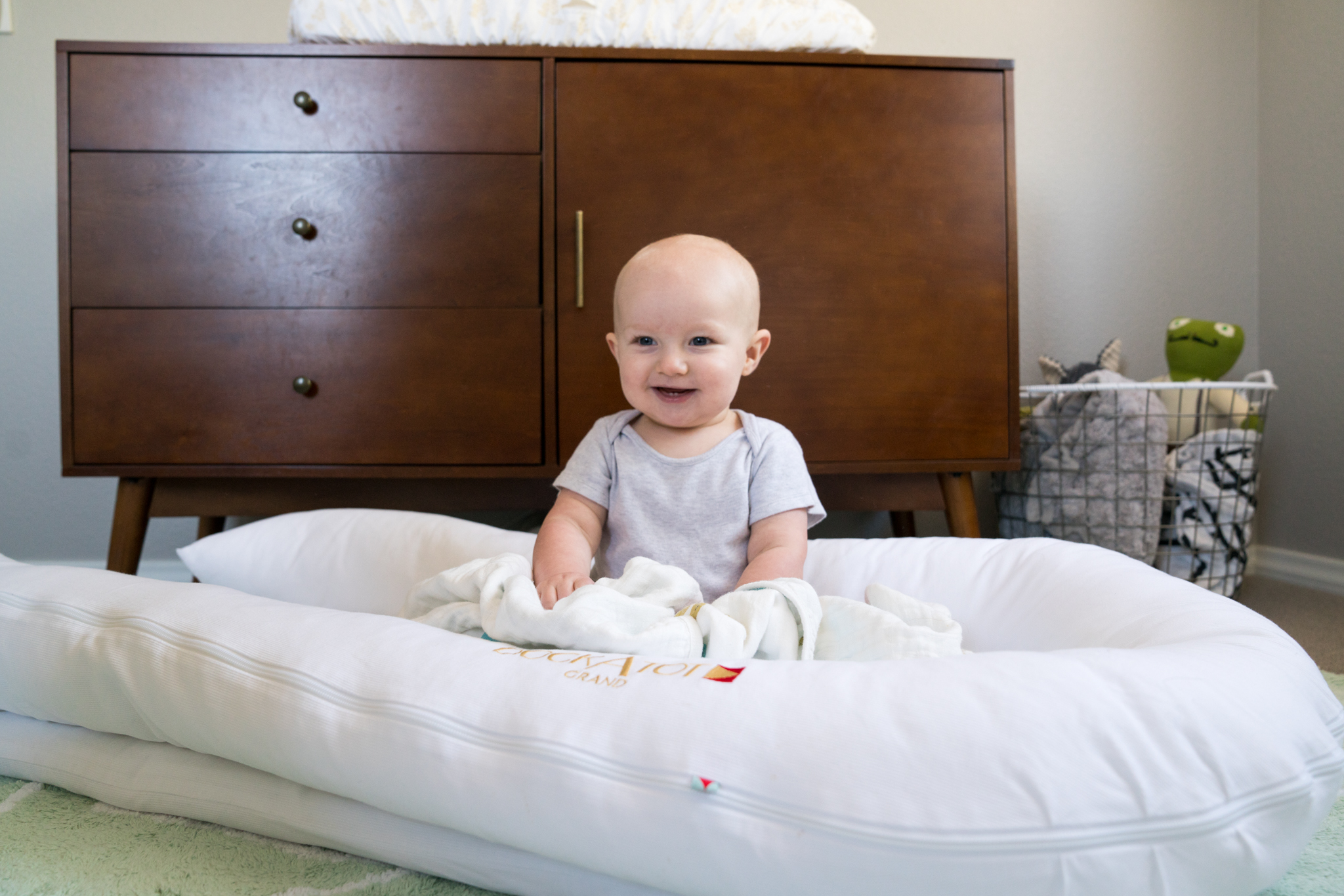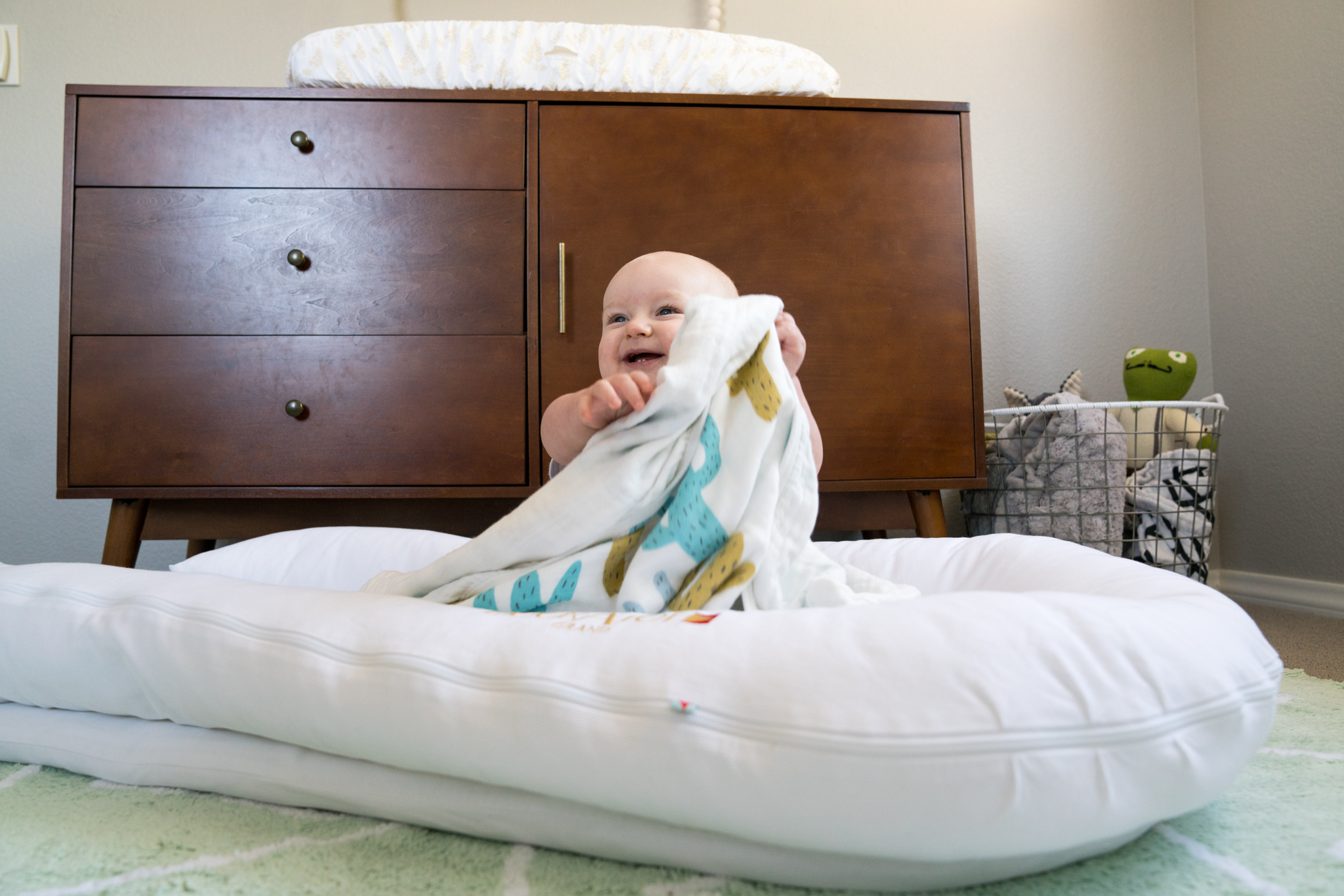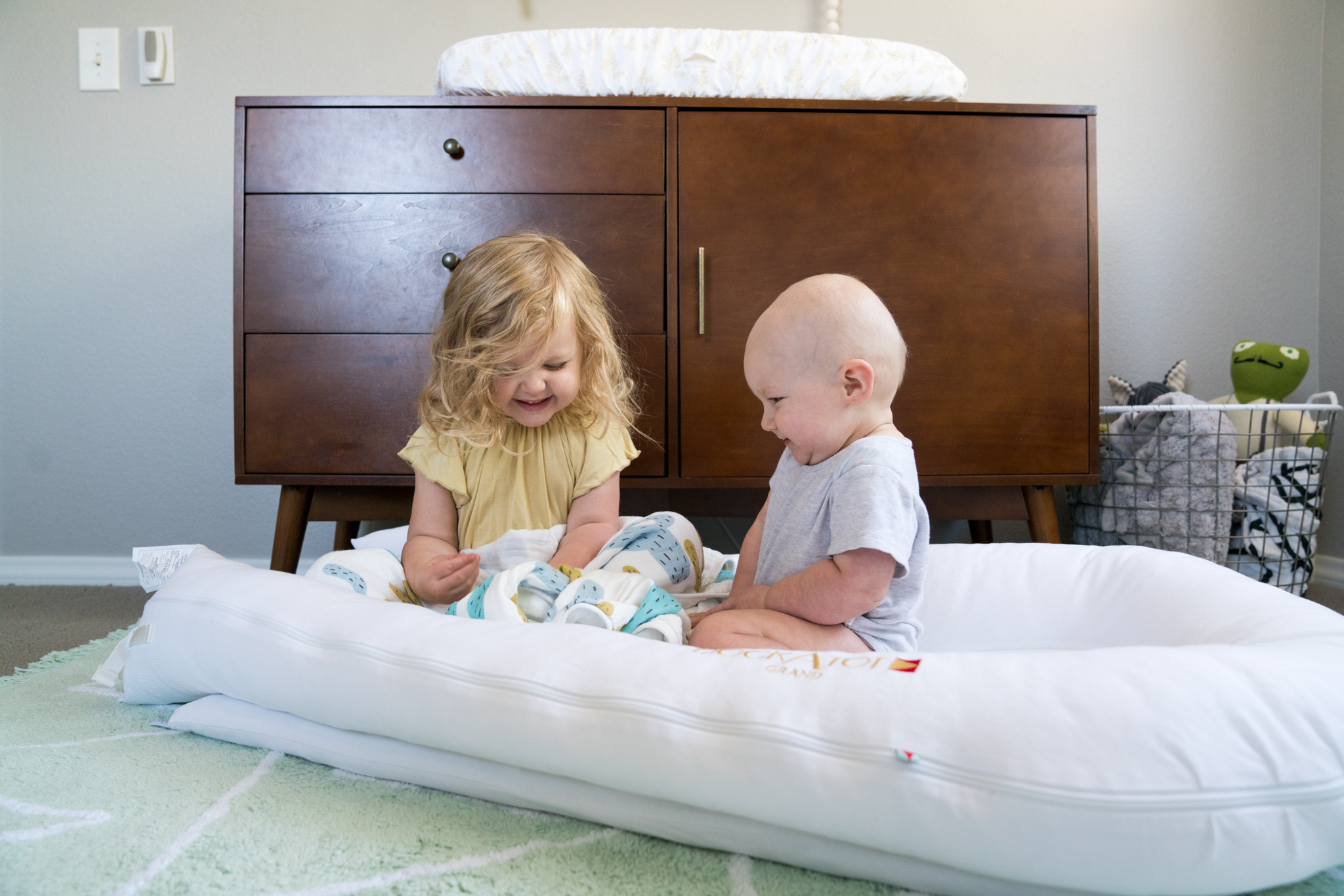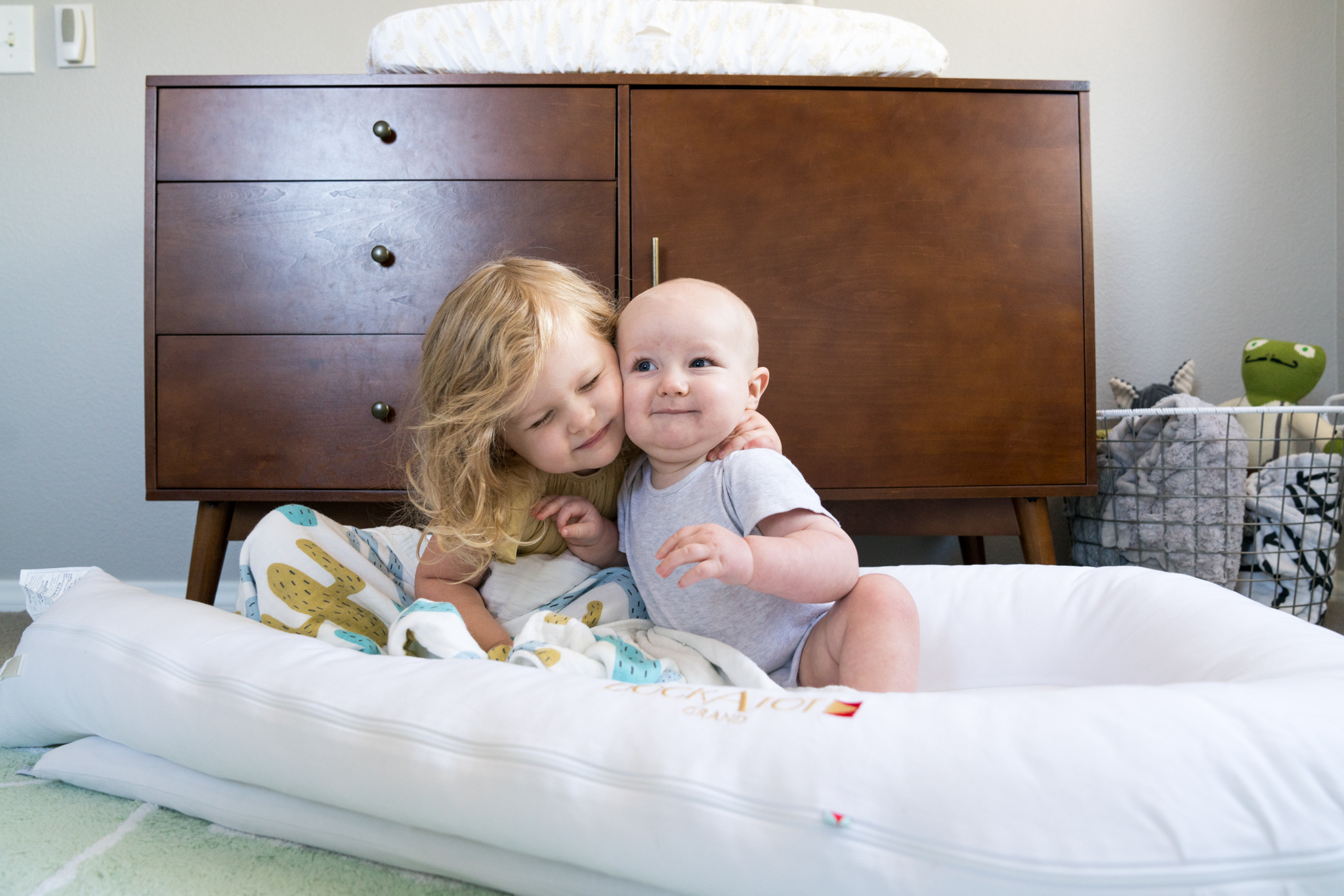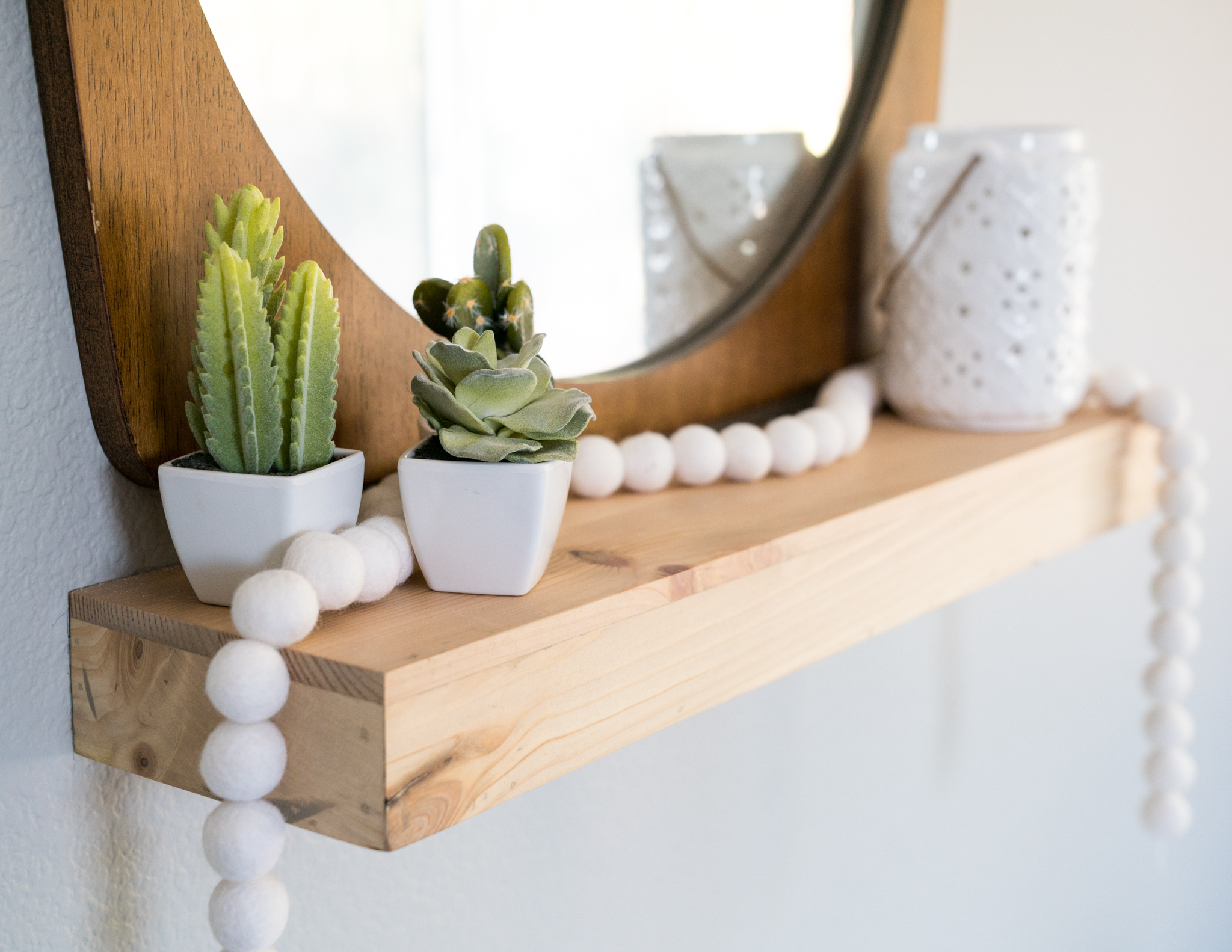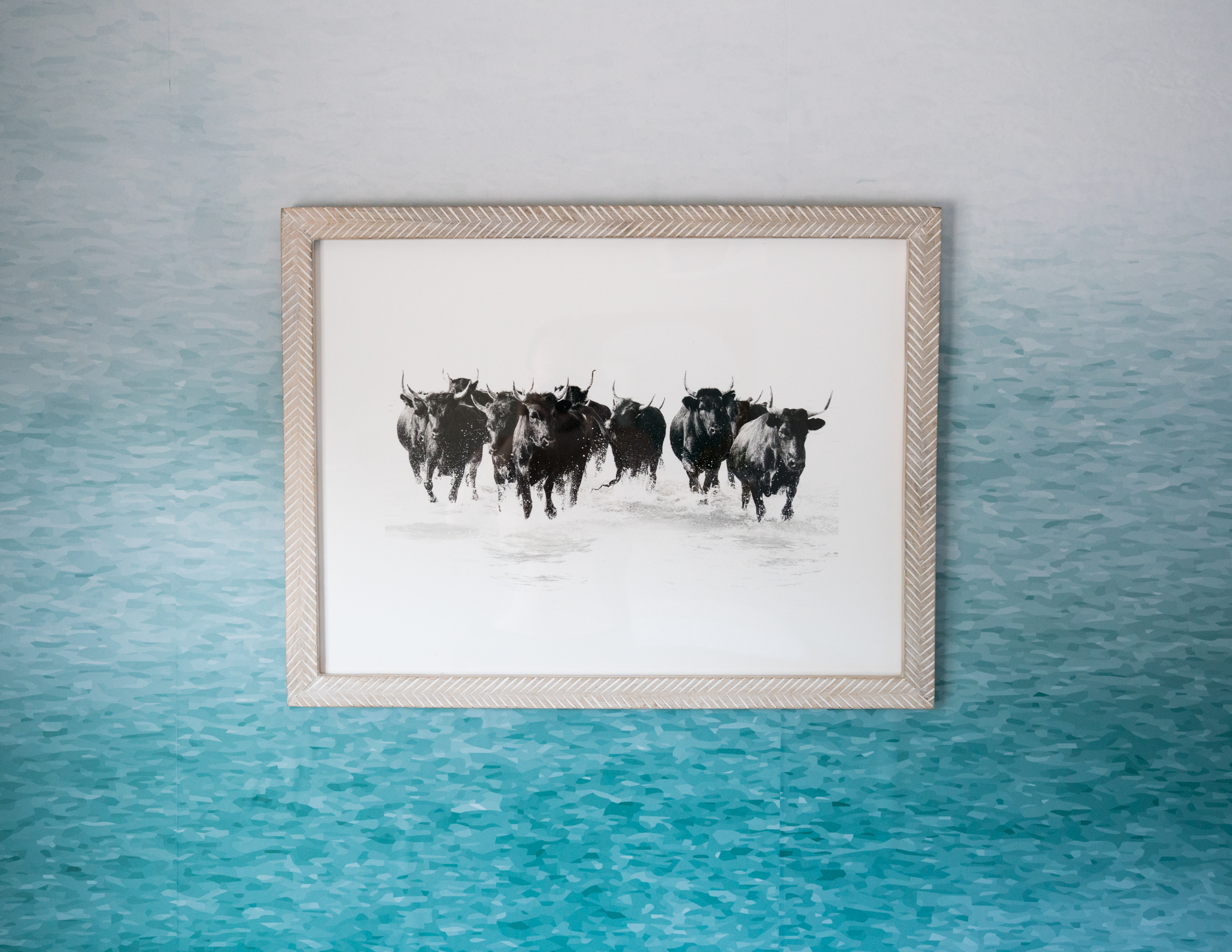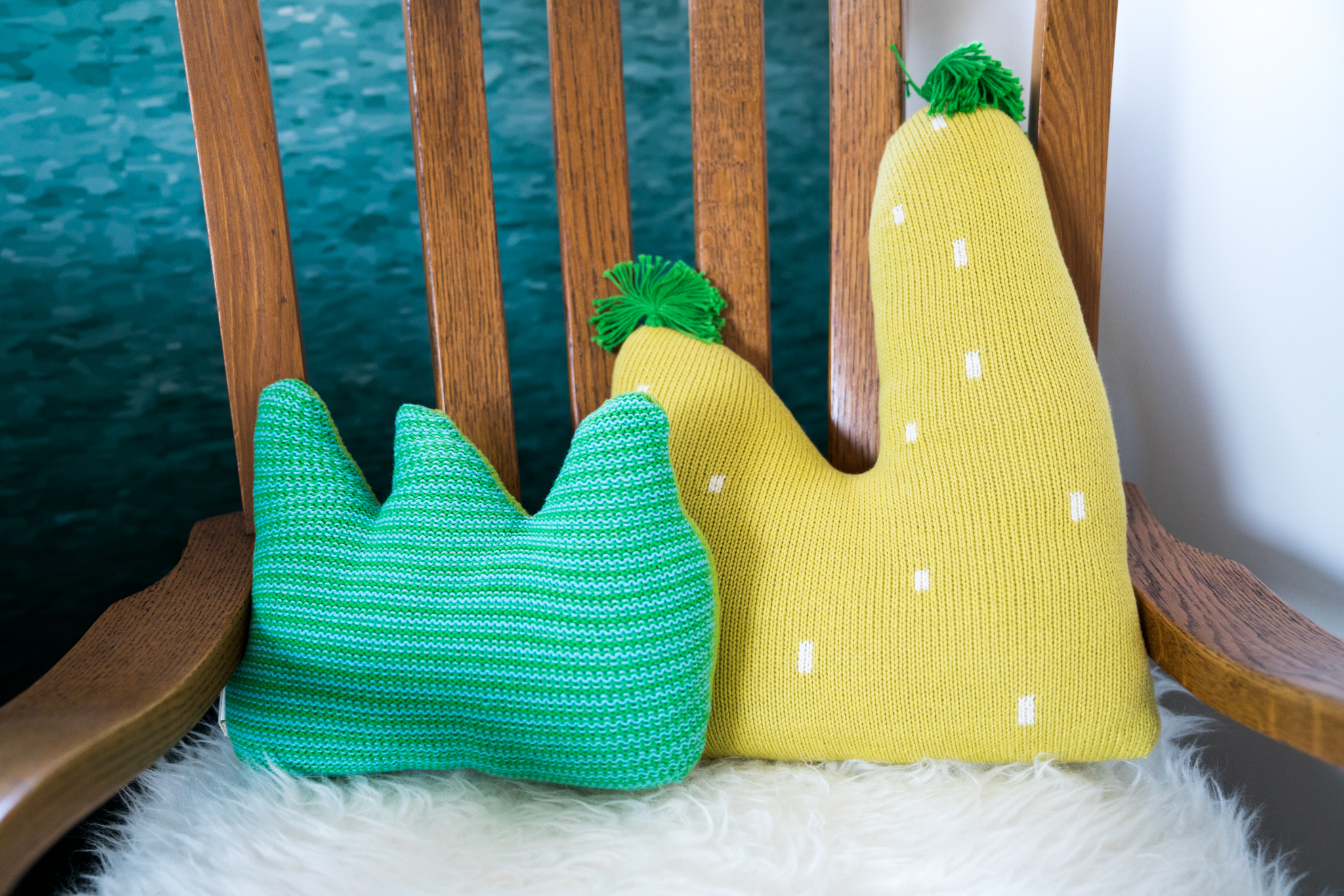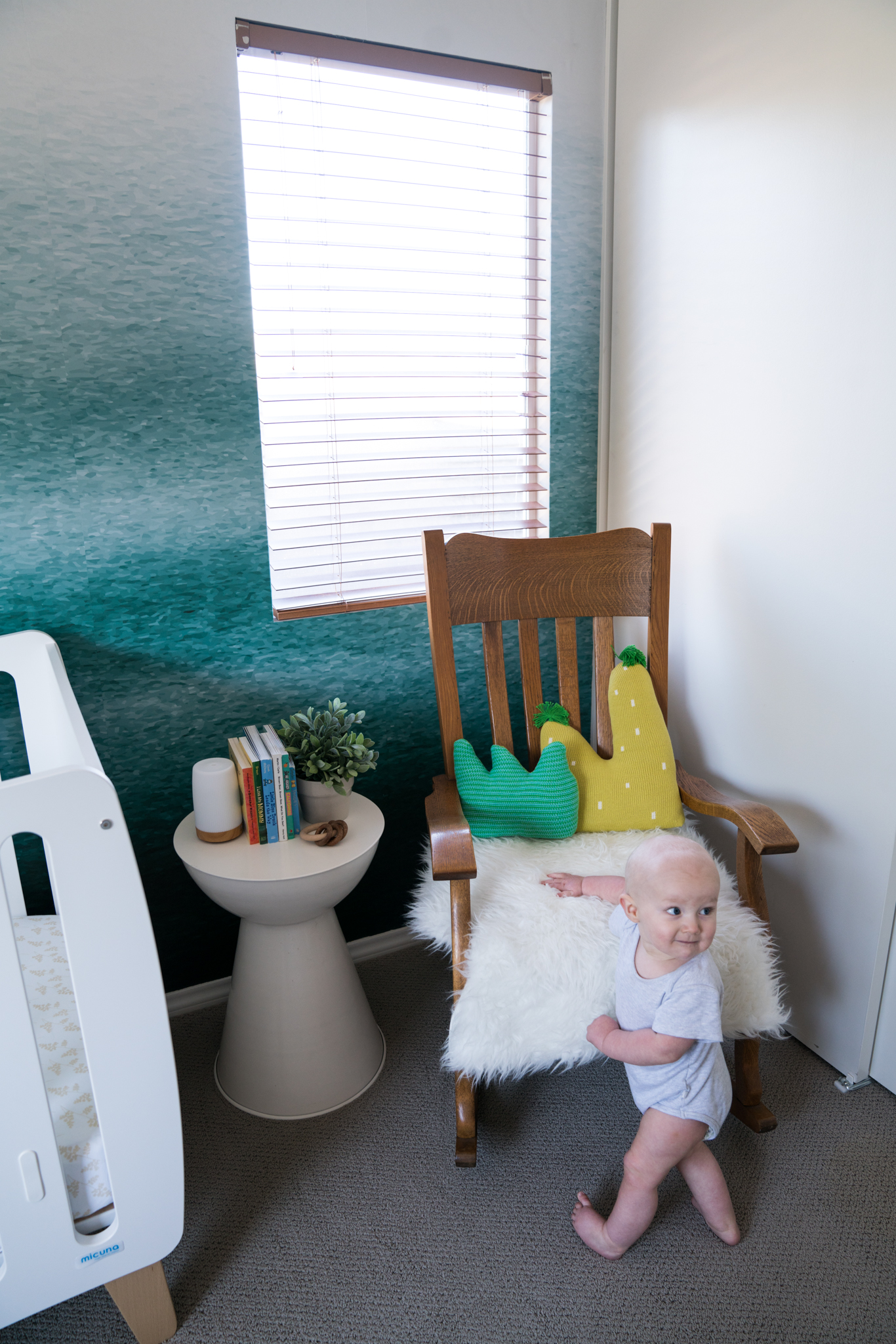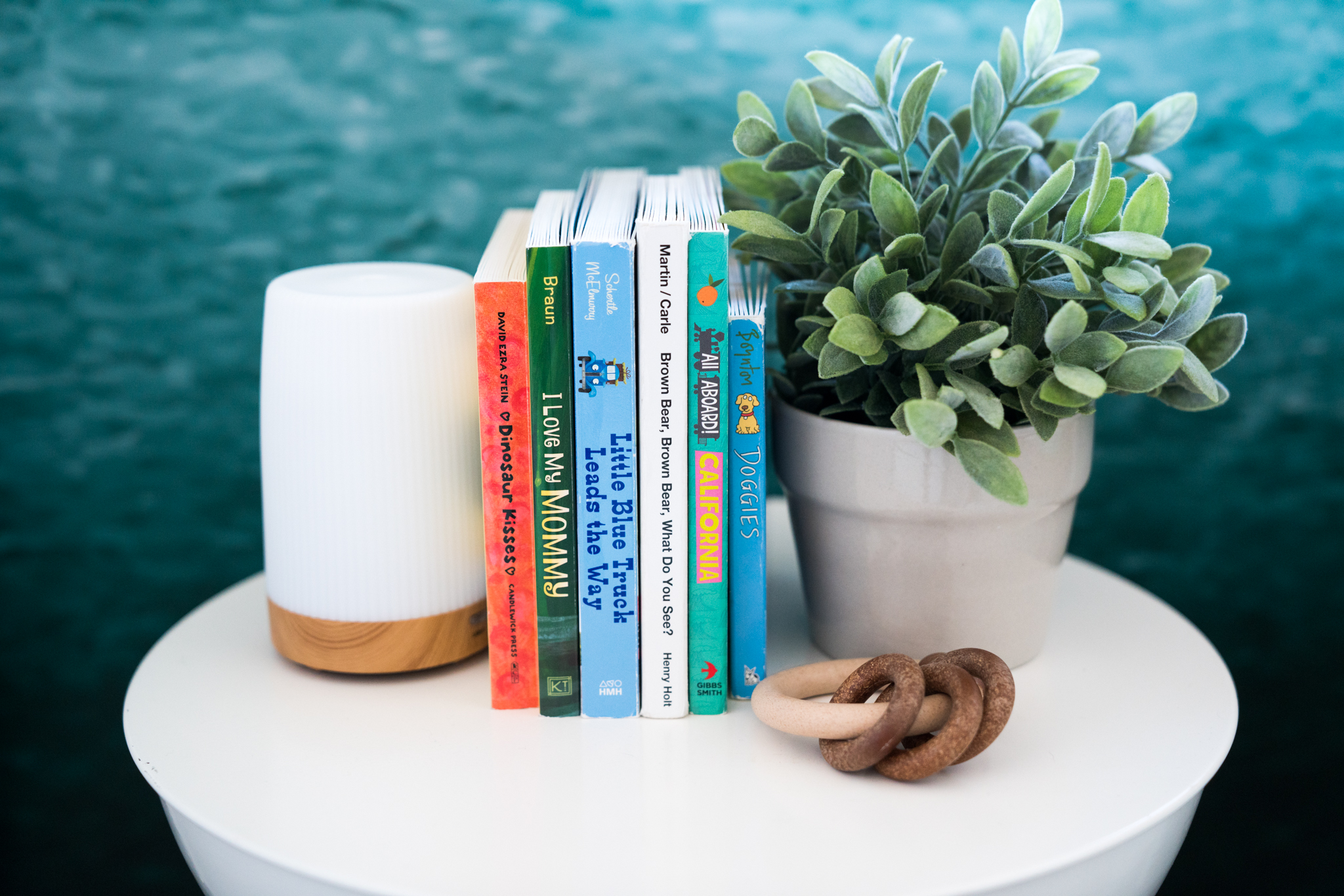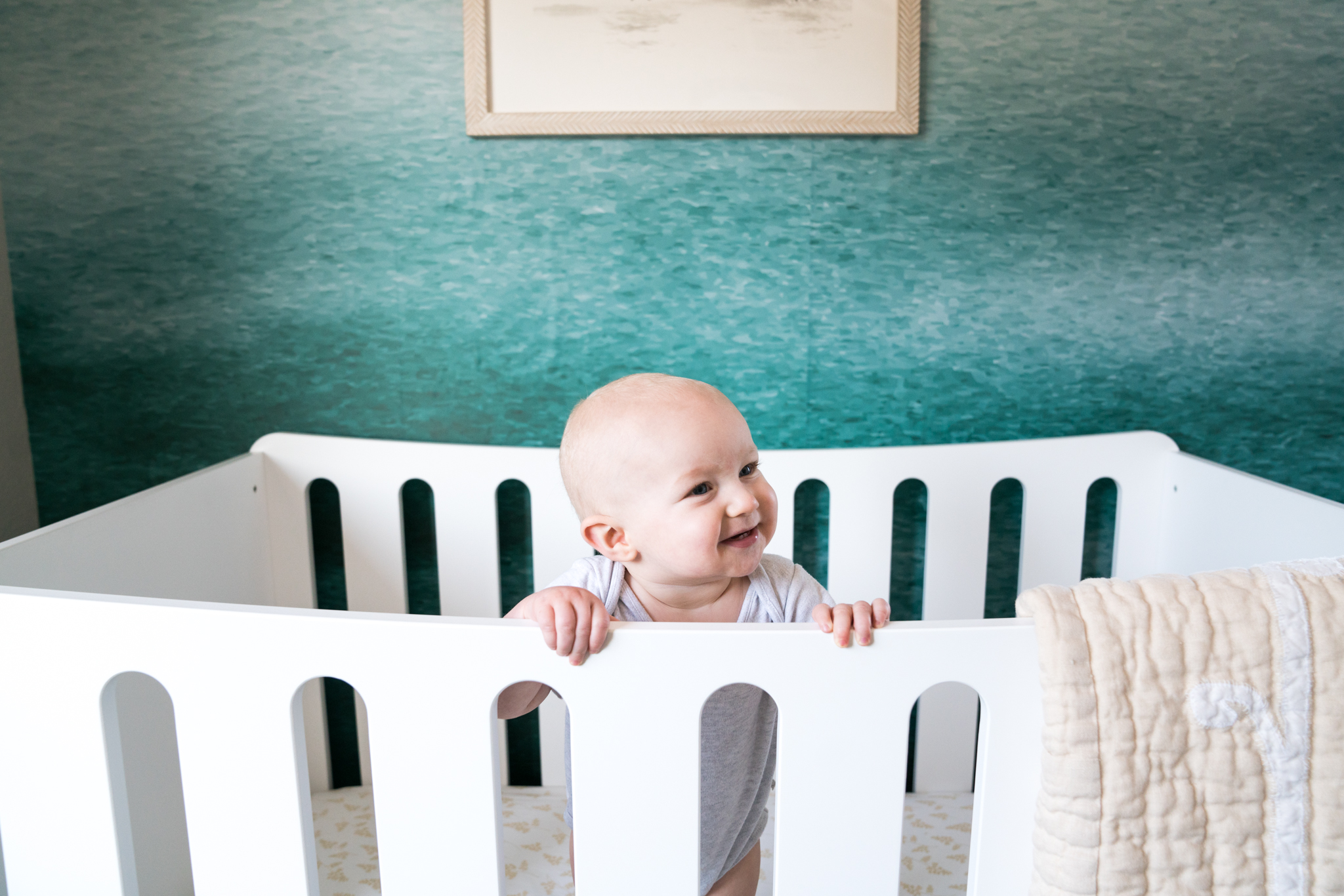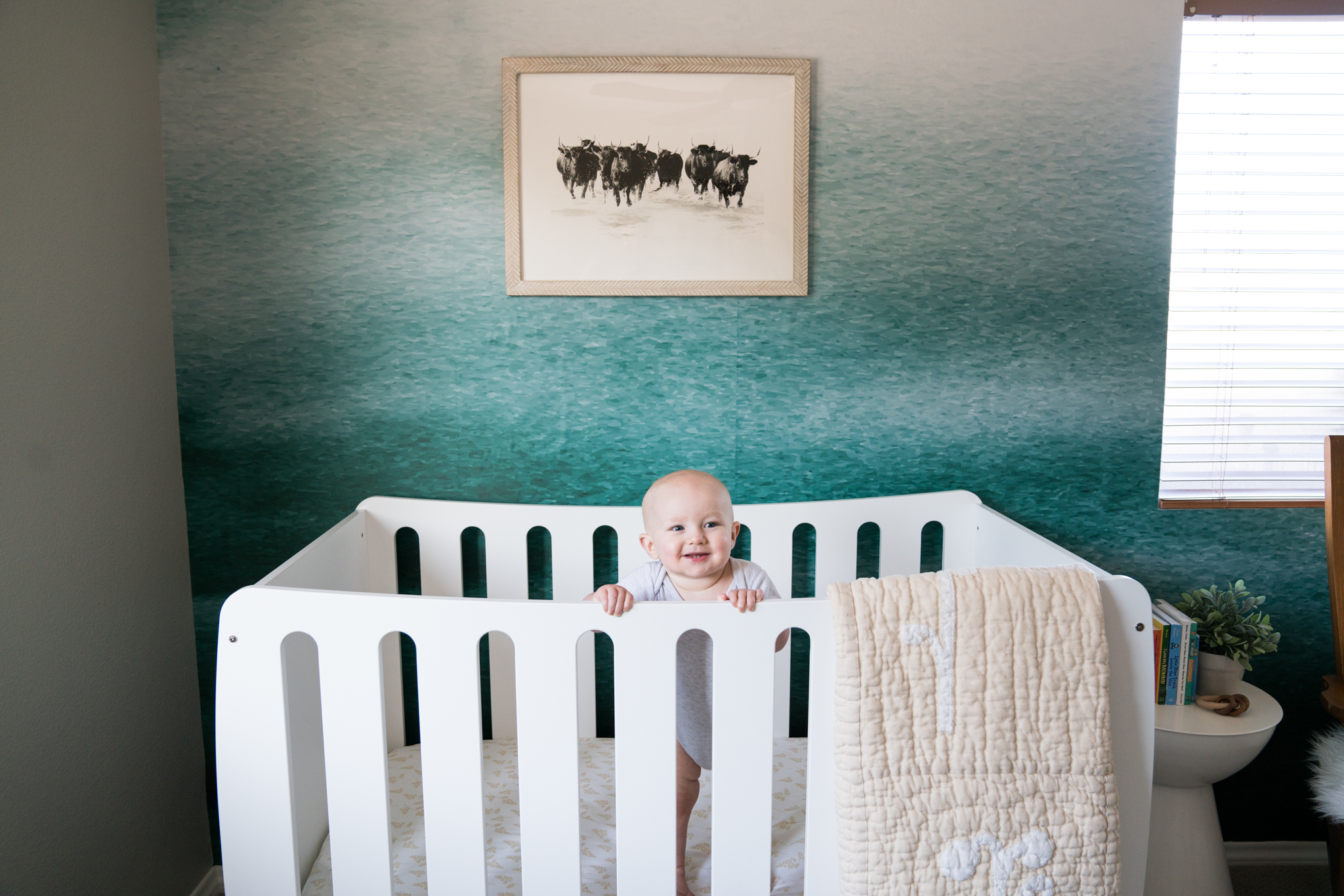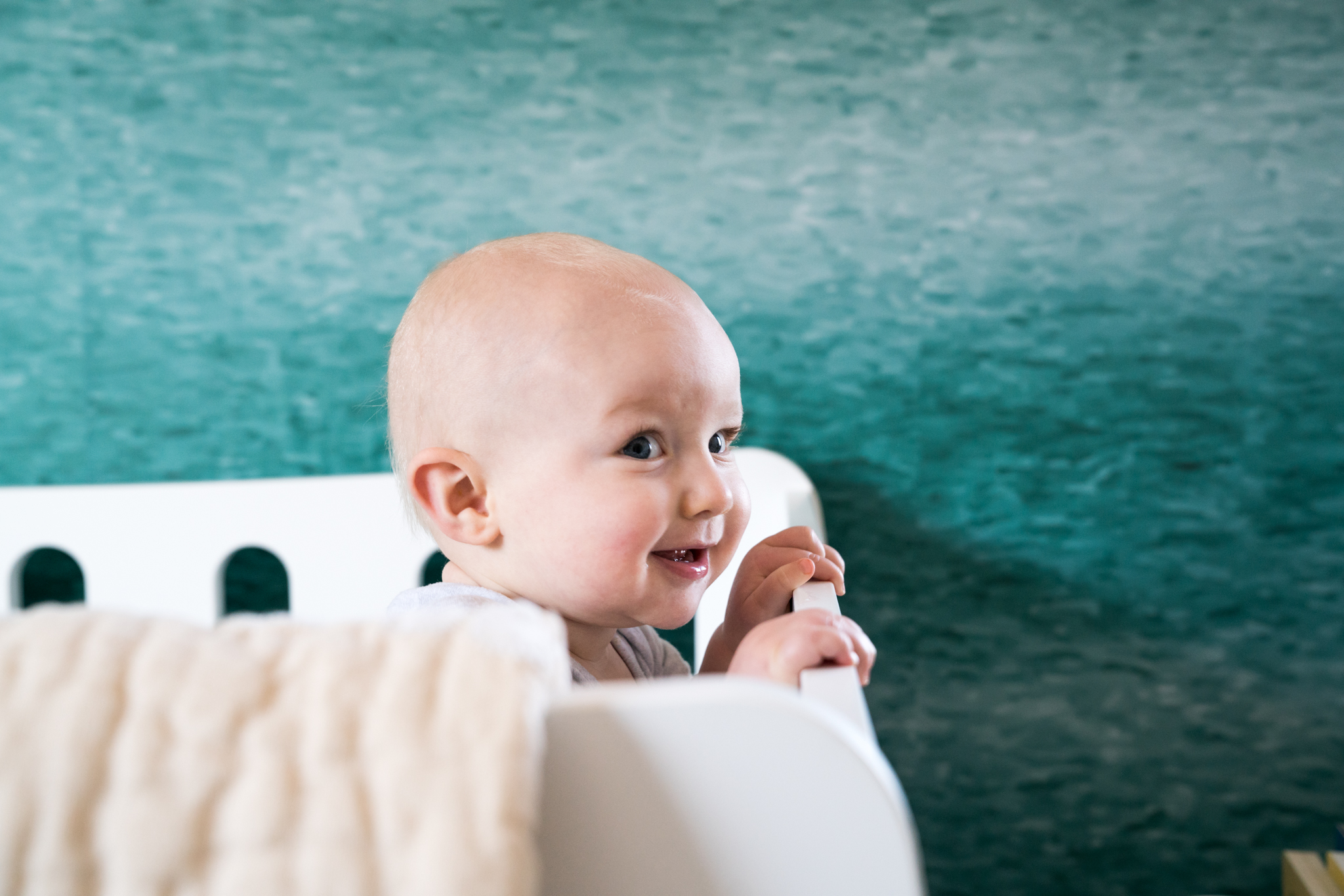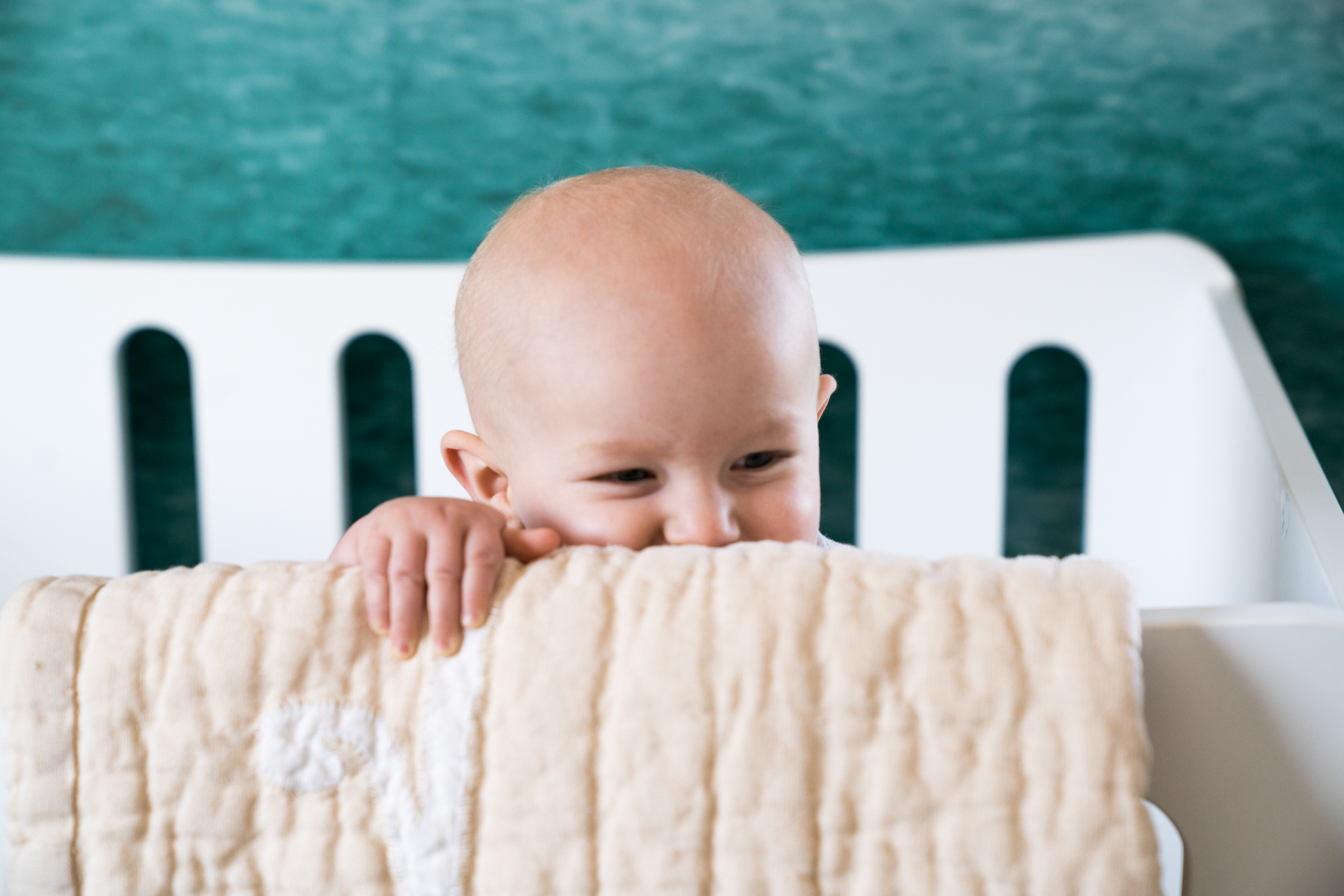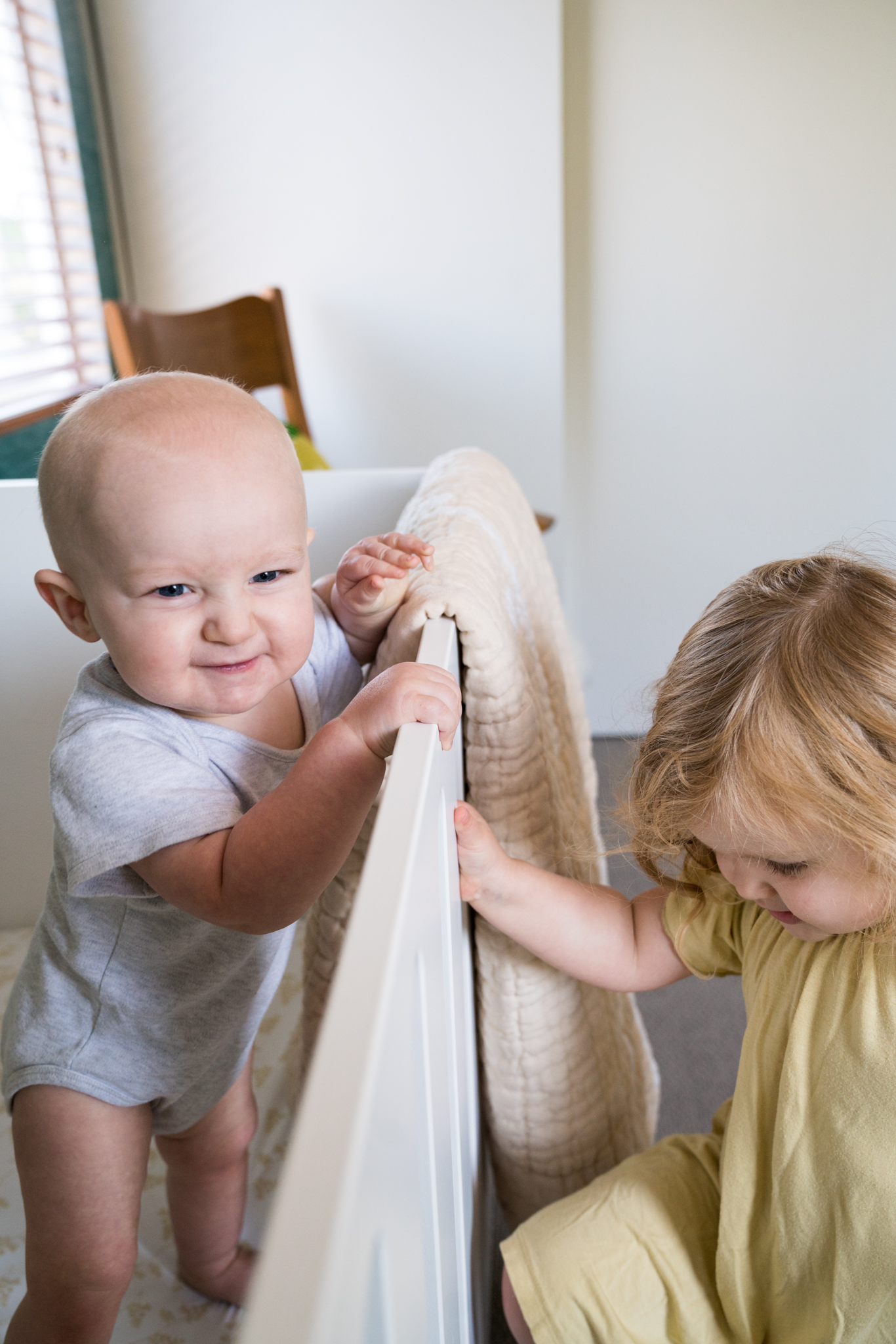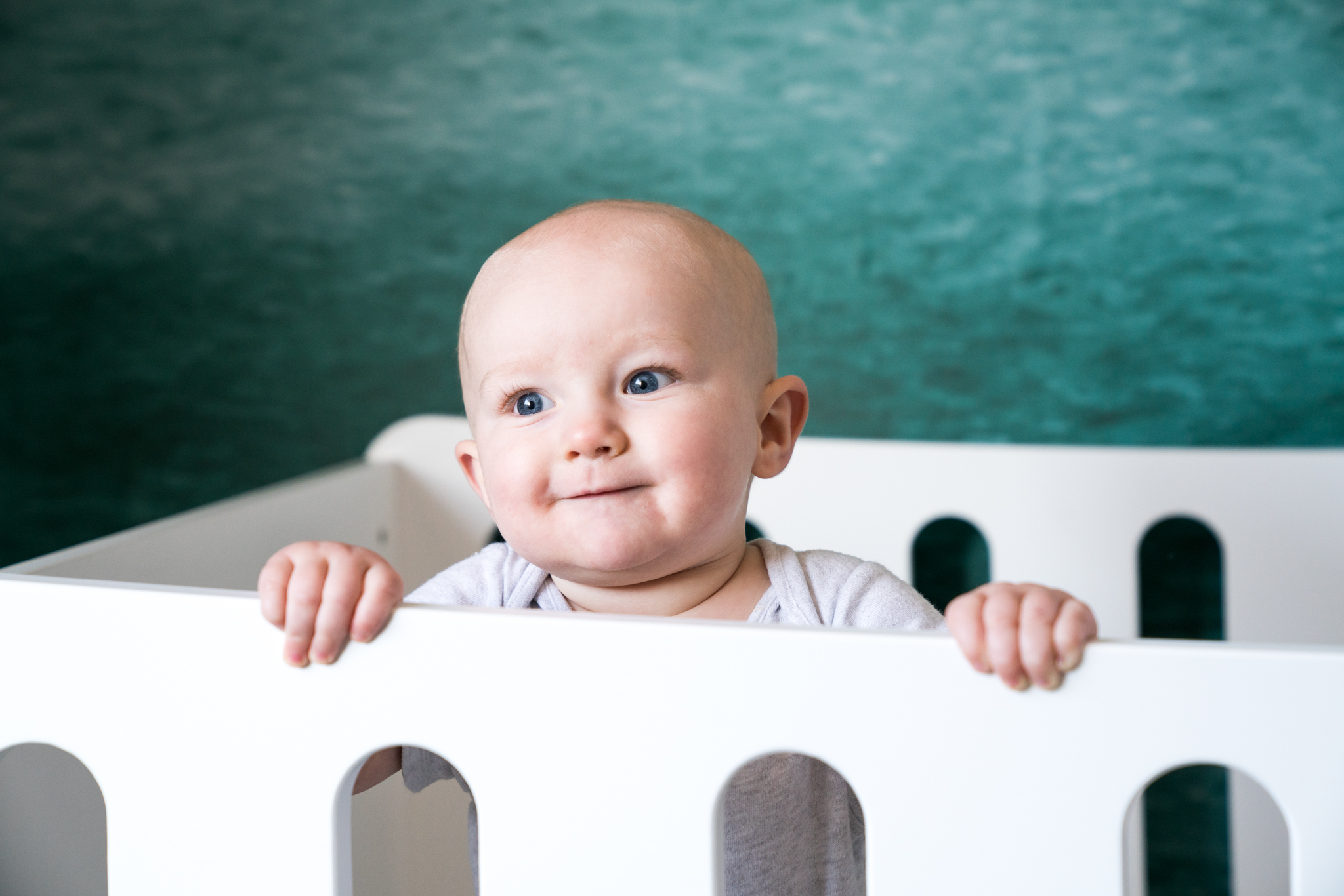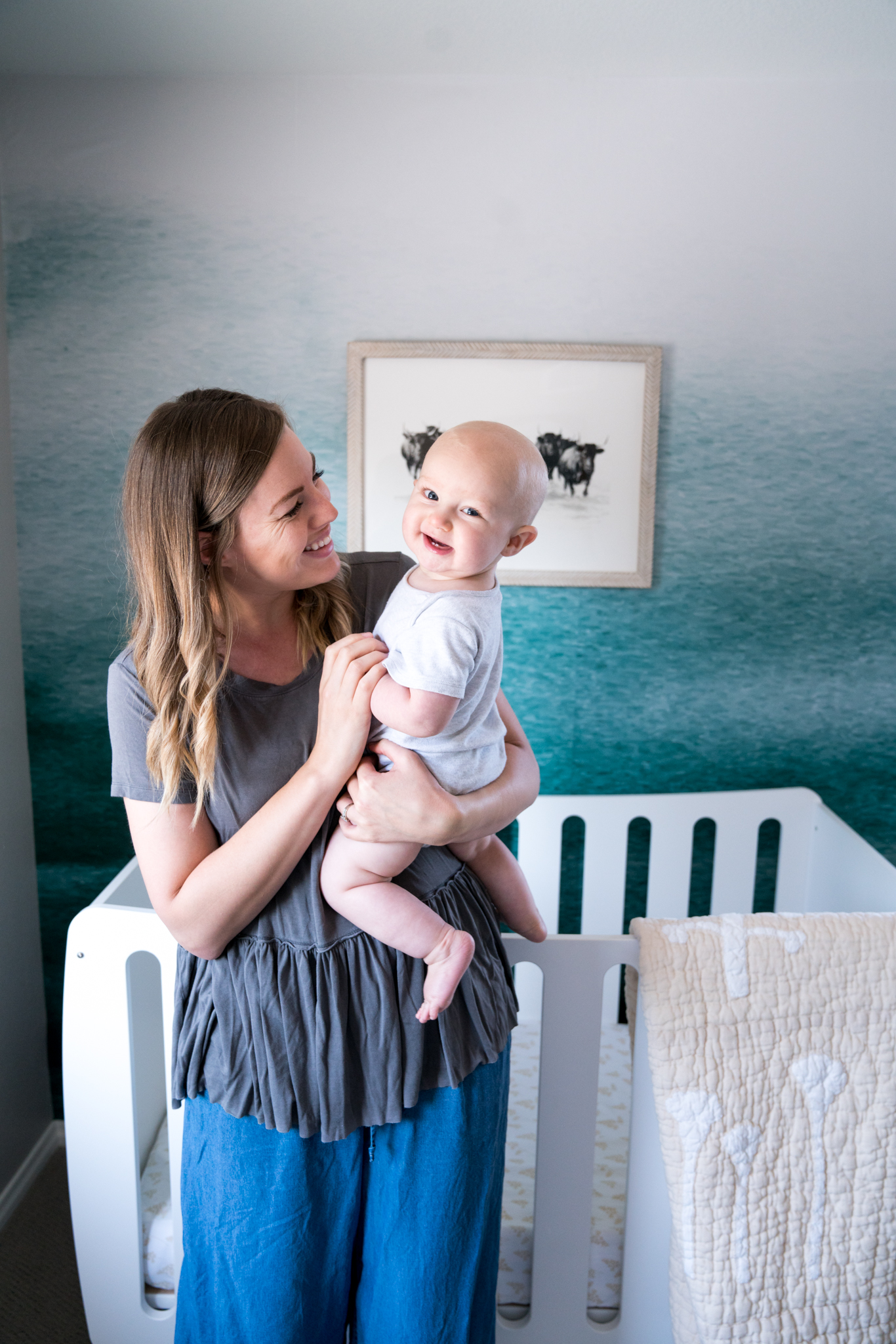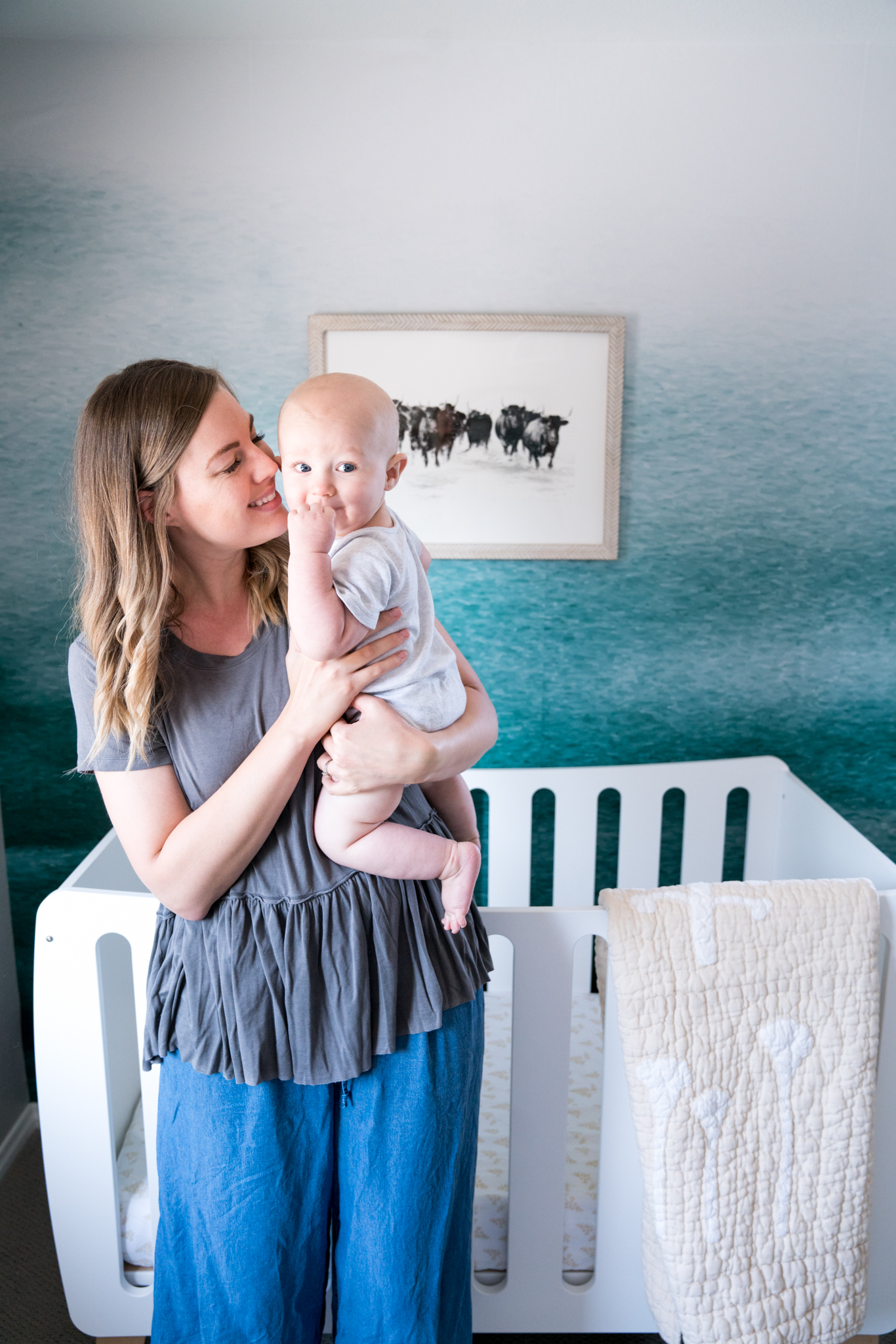 ---
SHOP THE POST
Harmony Crib c/o Micuna USA
Bull Stampede Picture c/o Minted
Removable Wallpaper c/o Shop B Darling
Natural Leaf Baby Quilt c/o The Land of Nod
Organic Natural Leaf Crib Sheet c/o The Land of Nod
Natural Leaf Changing Pad Cover c/o The Land of Nod
Machine Washable Mint Rug c/o Lorena Canals
Mid-Century Walnut Dresser c/o Walker Edison Furniture
Floor Basket from Target
Similar Mirror at Target
Solid Pine Shelf from Target
White Felt Ball Garland c/o Hello Maypole
Mini Potted Succulents from Target Dollar Spot
White Jar from Target Dollar Spot
Essential Oil Diffuser from Amazon
White Side Table from Target
Cactus Blanket c/o Captain Silly Pants
Dock-A-Tot Grand c/o Dock-A-Tot
Cactus Pillow c/o Blabla Kids
Grass Pillow c/o Blabla Kids
White Faux Sheepskin Rug from Ikea
---
Hey girl, go ahead and save me to your favorite Pinterest board: