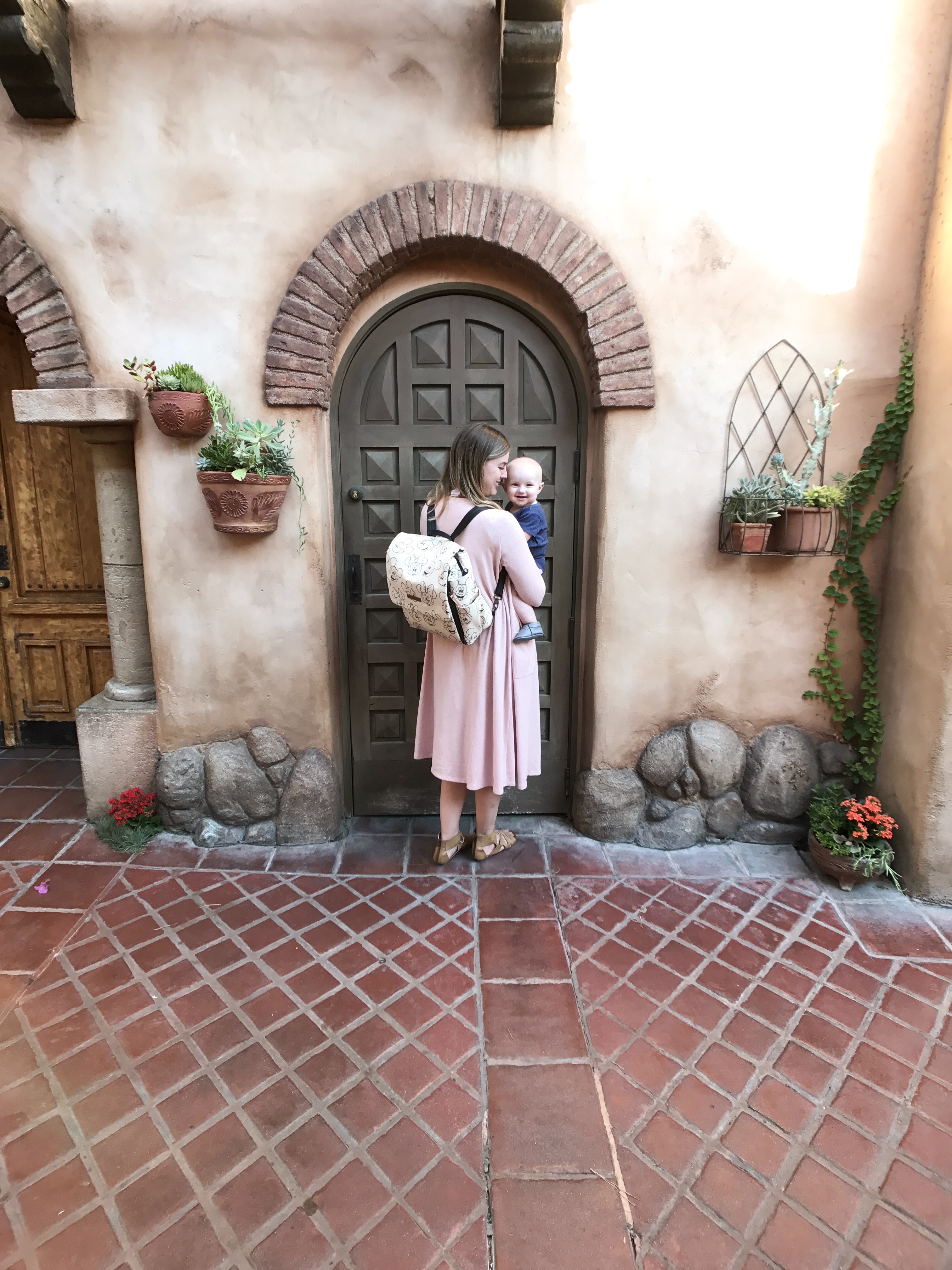 You know that infamous quote from Peter Pan "all you need is a little faith, trust, and pixie dust"? Well, I am here to say that there is a whole lot of truth to that. Your pixie dust might look a little different than mine, but I think that we can all find a little extra sprinkle of magic in our lives if we look for it. Yesterday I got to experience my own encounter with some pixie dust at the Happiest Place on Earth, Disneyland! I got invited to attend the Disney Social Media Moms Conference held at the resort and it was nothing short of magical. I had SO many of you lovely folks asking questions so I thought I'd share a bit about the day over here!
Disney Social Media Moms Celebration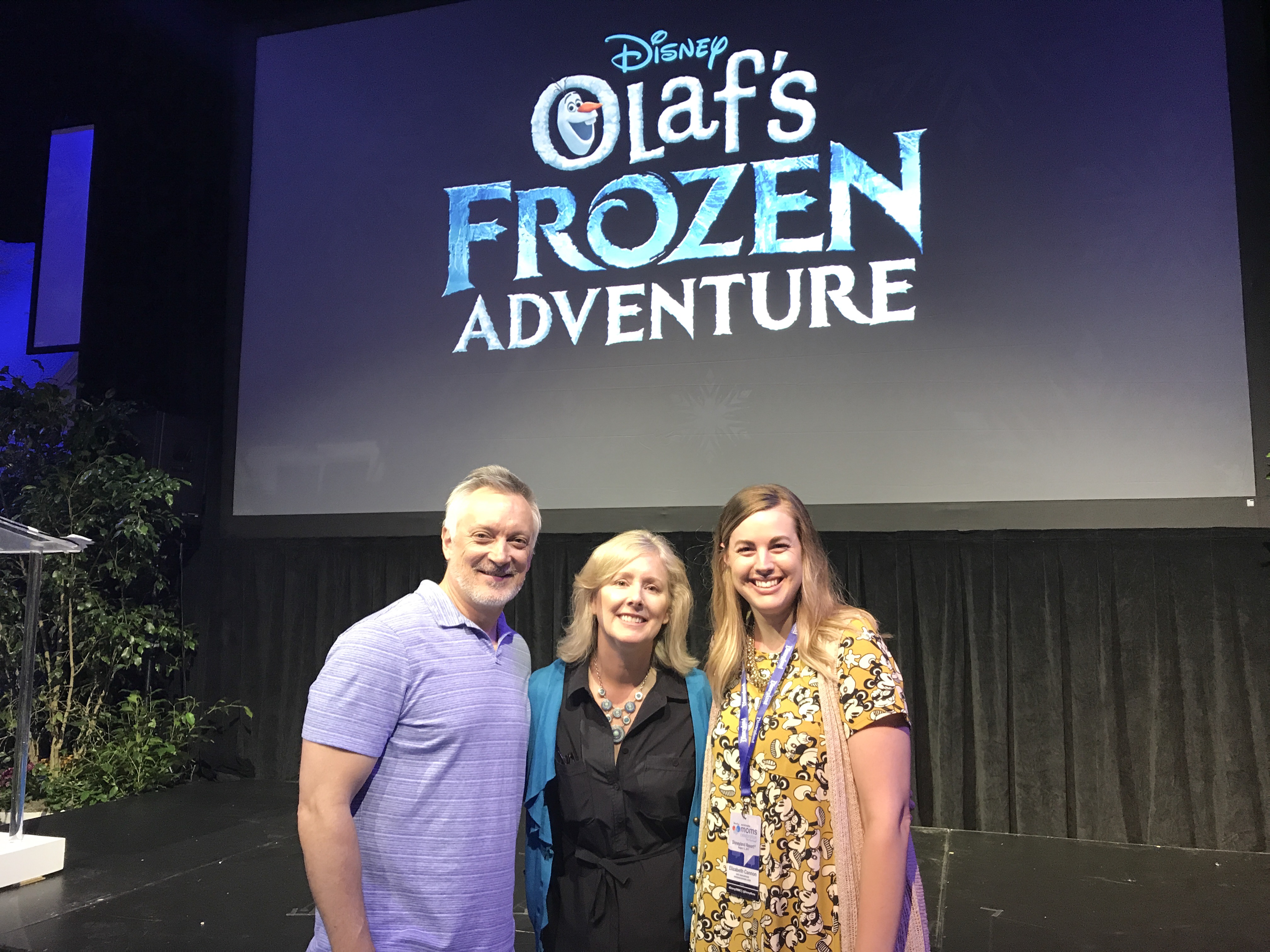 The conference itself was put on by the lovely ladies at Disney Social Media Moms and they thought of every detail. We were so graciously given entrance to the parks for ourselves and our families for the day. So, while I went off to the conference for the first several hours, my hubs had the kiddos alone at Disneyland! Talk about Super Dad!
We were invited into Stage 17 where we were transported into snowy Arendale and served delicious breakfast. How can a mom start her day off without coffee? Also, the bacon gave me life. There were even hidden Mickeys lemon slices in the water carafes. We all sat at tables and got to chit chat as we noshed on our goodies. It was so fun getting to see some of my favorite mamas and also meeting some new faces. This group of women was seriously incredible.
Once things got going there were some fun raffles for incredible Disney themed prizes. Yours truly won the most gorgeous rose gold Mickey bracelet. I'm telling you, my hubby's luck has rubbed off on me, because that guy wins everything. We got to hear some fun info about the Disney resorts like new attractions and lands that will be making their appearances in the near future. Then we heard from some amazing speakers. We got insight from representatives form the Disney Parks blog, Babble, and the Instagram & Facebook team. Notes, on notes, on notes people. So many good tips and insights were shared about social media how's and why's. I have to save my favorite thing may have been from the Babble presentation where we were reminded that there is no need to be competitive with our peers in the social media space. There's room for everyone and there are actually so many ways to partner and collaborate with one another as moms.
I will admit that I cried a few times throughout the day. The first, and maybe second and third, time was during our exclusive sneak peaks of Olaf's Frozen Adventure. The directors (that's who I'm with in the photo above) came to share special clips that were never before seen and Let me tell you, you NEED to see this. It will be playing before the new Disney movie Coco and is 22 minutes of the music and character you and your kids love. We also got a really special treat when a Disney artist and historian came to the stage to draw characters and share some amazing tidbits of Disney history. One of my favorites things she talked about was that The Little Mermaid was actually going to be made into a film in the 30's but they changed their minds and the artwork was put into the Disney vault until the 80's when they decided to actually make it into a movie. So cool, right? Her take away is "never throw anything away, because you never know when you might need it again." If I'm being honest, that's how I feel about my clothes. Is that wrong? Then the afternoon was closed out by a live interview with Amy Robach, who is a Good Morning America host and incredibly talented journalist. She was actually diagnosed with breast cancer several years during an on-air mammogram segment. She is now a best selling author and shares about being hopeful even in her darkest hour. When she talked about how things changed for her after her diagnosis she mentioned that she began parenting differently, not that she wasn't strict, but she just approached things with a lighter heart and a more even keel. I loved that, and really am going to try to practice that myself.
The After Party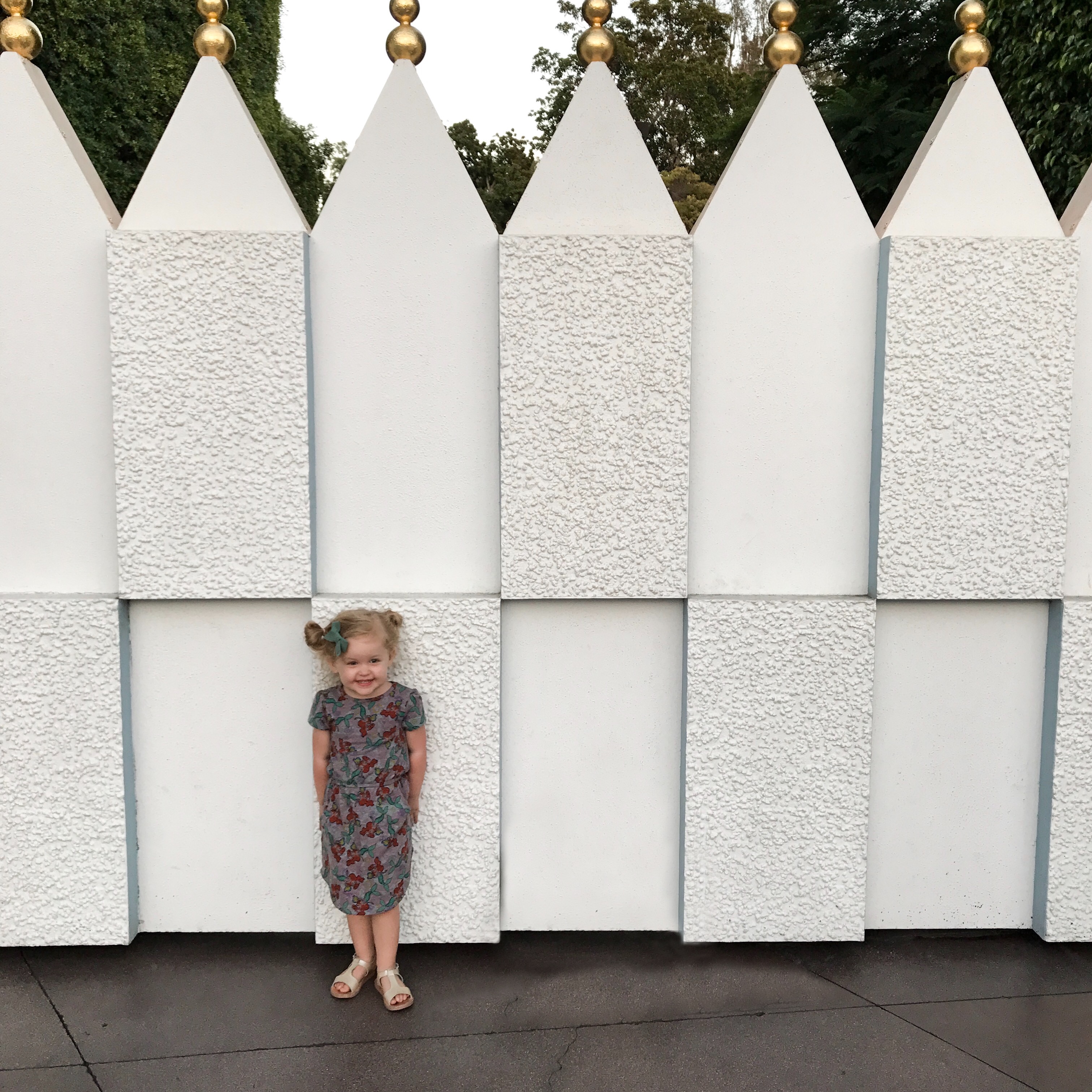 After the conference we had some sweet perks to enjoy as part of the event. We got fast passes pre-loaded onto our tickets to the new Guardians of the Galaxy- Mission: Breakout ride. I'm going to admit that when I first heard the news that this ride was replacing Tower of Terror I was sad, nostalgic reasons. I grew up going to the parks often and even had an annual pass in college and in the pre-kids stage of our marriage. I walked in skeptical, but once I immersed myself in the atmosphere it was hard to not love it. Then when the ride got going I knew that I had been converted to a fan. Dare I say, it was even more fun than the original. We also got to see the new Disney Jr Dance Party. Again, we were big fans of the original, but I walked out singing a different tune and shaking my groove thang. We ended the night with Fantasmic, one of my all time favorite shows. You might be sensing a theme here, but the show just returned and has been revamped. You guys, I freaking loved it! Christian couldn't remember what the show was all about and Elouise had never seen it, but they both were big fans! New effects, new characters and music, just SO much fun. It always gets me choked up though (I know I cry at the drop of a hat, it's fine) when Mickey declares that he is taking back his dream and brings back the light. I might be getting misty eyed now, but you'll never know.
Oh, and one more fun thing was our swag bag which included a "cooler style" backpack perfect for keeping snacks cold in the park, a Guardians of the Galaxy baseball cap and speaker, a Disney Jr book of stories, a Roadster Racer Mickey toy, a themed water bottle, and a bunch of yummy Disney rice crispy treats. We also got sent home with a custom drawing of our favorite Disney Character signed just for us!
Now, how on earth did I get so lucky to be a part of this event? Honestly, I don't have an answer for you. All I can tell you that I feel SO incredibly excited to have been included and sure hope to get to attend more in the future. All I do know is that when the email invitation found it's way to my inbox I almost peed my pants and I might have definitely screamed with excitement. I know some of the other mamas who attended and I can tell you what we have in common. We are all mamas who share regularly on social media, we are engaged in our communities, commenting and connecting with our like minded people in our space. We are positive and share about motherhood in an authentic way. We love Disney and share about that love, some more than others. My biggest tip for ANY mama trying to be successful in this space is BE YOU! Oscar Wilde said it best "Be you, everyone else is already taken." If you are true to yourself, people are more likely to follow and engage with you on your social channels and you will find success! Or maybe success you find you, with a little bit of pixie dust.