I spent this weekend gathering all of the items I think I'll need and officially packed my hospital bag today. It is SO intimidating because I don't want to overpack, but at the same time I would much rather have too much than realize I need something I don't have. I had my little helper try to sneak a few extra things in, but I'm pretty sure I don't need Mickey Mouse or a light up pumpkin wand for labor or recovery. I have complied a quick guide of the 16 things that I packed in my bag.
16 Things I Packed in my Hospital Bag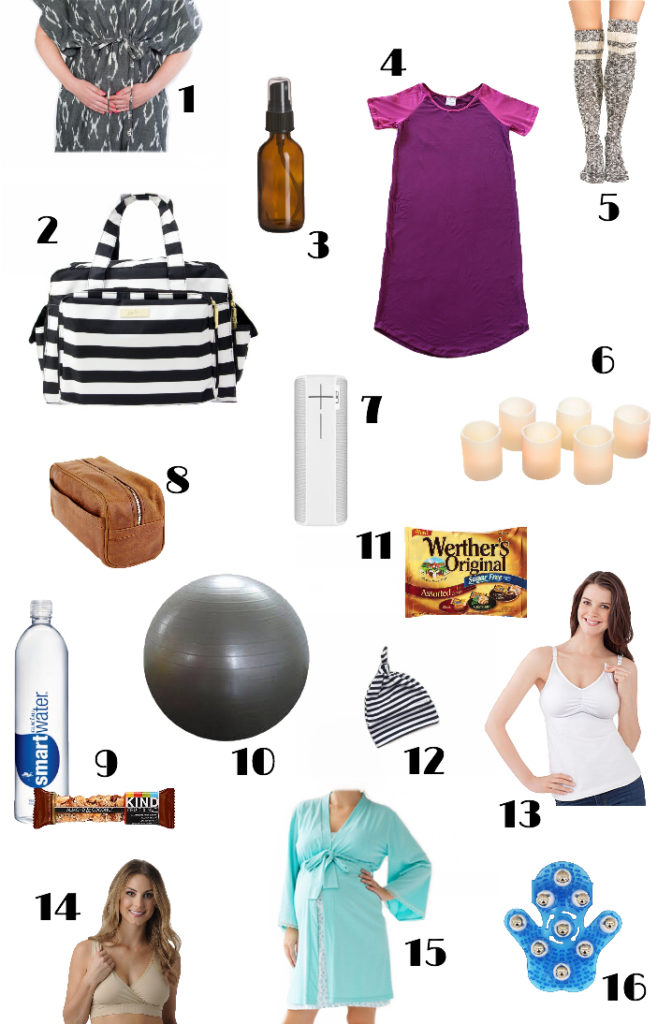 James Fox Co. Gown: This gown is one of the things I was most excited to pack. I remember the recovery process last time feeling less than glamorous. If you have been through it before I think you'd agree. The clothes I brought last time for the time in our recovery room weren't really practical. That's why I love this gown from James Fox Co. It is the softest linen, has a gorgeous pattern, drawstrings to make it flattering for mama to wear, and convenient snaps for nursing or skin to skin. I plan on slipping into this after our "golden hour" with baby boy before our friends and family come in to visit.
Ju ju be Be Prepared Bag: I knew that I needed a practical bag to pack my items in. I was on the hunt for something that was big enough for my items but also had compartments and components within the bag that made it easy to access things. I LOVE this bag, it has several easy to use compartments, zips all the way open for easy access into the main compartments and has mesh sections within it to organize my items.
Calming Lavender Room Spray: This is something I had last time that I knew I needed this time as well. I had a completely natural labor and delivery last time and plan to do it again this time. My husband would periodically spray this to help keep the atmosphere calming and peaceful. Surprisingly it really worked! You can find a ton of DIY recipes online for this spray, and I used the Young Living Lavender oil that was already in my medicine cabinet.
Plain Jane 24 hour Dress (outfit to wear home): Surprise, surprise, everyone, you do not automatically loose all of the "baby weight" once the baby has made their debut. So I wanted an outfit to wear home that I could feel good in with a slightly squishy belly and also feel comfortable in with all of the recovery in the nether regions. I knew for sure this time I was not wearing pants home, big mistake. I packed this perfect 24 hour dress, some good old granny panties, and a light sweater.
Cozy Socks: The hospital can get pretty cold, and unlike that new little bundle of joy, you do not get swaddled. I found the thickest, coziest, knee high socks to wear around the room during labor and recovery. I also brought a small pair or lightweight slippers.
Led Candles: These are something that I saw all over the place when I looked at recommended packing lists, especially for mamas who were doing natural births. I snagged some on Amazon for pretty cheap and plan to have them in the birthing room to help keep that tranquil and peaceful feeling as I prepare for labor.
UE Boom Speaker: This is an awesome item in general, we use it daily in our house. Its little portable bluetooth speaker. This way we can link it to one of our phones and have my birthing playlist going without worrying about it getting paused or interrupted if we get any texts or phone calls.
Toiletries: This one sounds obvious, but I packed small versions of all of my favorite items. I am pretty particular when it comes to my beauty routine. Not to say that it's fancy by any means, I simply have found a specific set of products I know work for me. After going through the grit and grime of labor and delivery I am going to want to feel spick and span.
"Power" Snacks and Smart Water: With Elouise, my water broke so I wasn't able to eat anything during labor. I know there are mixed suggestions about this but I wanted to be prepared with a few healthy snacks that would help boost my energy and not compromise my labor experience. I have some KIND bars and some all natural, sugar free, apple sauce pouches. I also am bringing some of my own water. I have been on a kick with Smart Water and am trying to drink as much as I can since I read how having the electrolytes can help boost energy and also having the PH balanced water helps you hydrate faster and more efficiently.
Birthing Ball: I LIVED on this thing during labor last time, it was the main thing that got me through. Our hospital doesn't provide them there so I will be traveling around with this bad boy in the back of our van. It obviously doesn't fit into my bag.
Sugar Free Hard Candies: This is another thing I read about that I knew I wanted to try. Last time I wasn't able to eat, and it sucked. I think that if I was able to suck on hard candy it would have definitely helped with the hunger pains that crept in between contractions. Sugar free candies are a must because they won't dehydrate you like sugar will.
Essential Baby Items: Of course I have a swaddle, a couple of onesies and beanies for baby boy. Luckily your hospital should have pretty much anything you could need for your sweet new baby. Diapers, wipes, nasal aspirator, you name it, they have it. It's kinda their thing to care for babies so they have got it down. Plus they sent us home with a ton of extra stuff last time. I knew I could leave most items for baby boy at home.
Bravado Nursing Tank: Last time I had a nursing bra but not a nursing tank, and I wish I would have had one. So I'm bringing one this time. I'm not sure if I'll wear it but hey, it'll be there waiting for me if I want it. We only stayed in the hospital 24 hrs with Elouise but who knows how long we will be there this time and how many outfit changes will be necessary.
Belly Bandit BDA Bra: This is for sure the best nursing bra for night time. I had it last time and got a new one when I found out I was pregnant. It is silky soft and stretchy with not clasps or thin straps. It kind of just molds to your body, and then you easily slide open the bra to nurse without having to deal with any pesky clips.
Belabumbum Robe: A robe is another thing I wished I had last time, just for the extra warmth and coverage. I love this one because it makes me feel pretty, there's really not much to explain here.
Massager: This thing has been my best friend this pregnancy. I have had the worst sciatic pain and this bad boy is the only way for me to get real relief. So it's coming with me to the hospital incase of back labor. Bring it on.
In my husband's bag we have snacks for him, our iPad, camera, and all of the various chargers we may need. 
If you read my birth story with Elouise, you know that I had a fairly low key, quick, labor and delivery. We were in the hospital for about 8 hours before she was born and then checked out 24 hours after delivery. Being there only a short time meant we didn't use much. However, I have no clue what things will be like this time, if we will be there laboring for longer or if the process for recovery will be more extensive and we will opt to stay longer. I just want to be prepared, even if that means being over prepared.
Did I forget anything? I'd love to hear any more suggestions you may have!