So, if you've been following along with my sweet family for a while, you know that we are currently in a teeny tiny one bedroom town home. That means that our play area is our dining room and our dining room is the first thing you see when you enter our little space. There's no hiding the chaotic toddler war zone since our living area is completely open concept. I tried to keep this area simple and somewhat aesthetically pleasing, but as Elouise has grown it has slowly morphed into a big, noisy, colorful whirlwind. We are actually moving when our lease is up in mid December, but my extreme nesting urge couldn't be rationalized with, so we re-arranged to make room for baby boy.
Before
Let me preface by saying that this was the current set up in it's clean state. We had a toy bin stuffed completely full with all sorts of random toys, and a few more sitting on the top. Elouise has a cute little play kitchen that was completely packed with all sorts of odds and ends. Our little book case was completely crammed with books, books, and more books. The magnet board somehow always seemed to have magnets on it instead of in the designated bins. The fun little punching bag toy was something we randomly won at an event, and it's sort of just remained shoved in the corner watching over the area. The little antique table is mine from when I was little, and since Elouise can't be trusted yet to use the chairs safely (meaning she fell off too many times) it kind of just ended up taking up space. Then we had the walker, which is silly since E has literally been walking for 10 months and the jungle treehouse. She does love that darn jungle treehouse but it took up so much space, so we will bring it out periodically for play time. It's the curse of a 700ft living space.
After
I am currently staring at the play area while I type and I am completely obsessed. It's so much brighter, cleaner, and organized. I was lucky to partner with The Baby Cubby to snag some pretty bins from Pehr Designs that helped me pull together the space. I need to just pause really quick and say that I am totally impressed with The Baby Cubby, their tagline is "the best of everything baby" and that could not be more accurate. It can be pretty overwhelming trying to find the best products for your kiddos, but they take the guess work out of shopping. The team is made up of parents who hand select tried and true, quality products that are safe for your family. Plus, they always have free shipping on orders over $49 and they price match you guys. Who else is obsessed with the concept of price matching? I know it's not just me. Well, without further ado, here are the after photos of the play area post "face lift".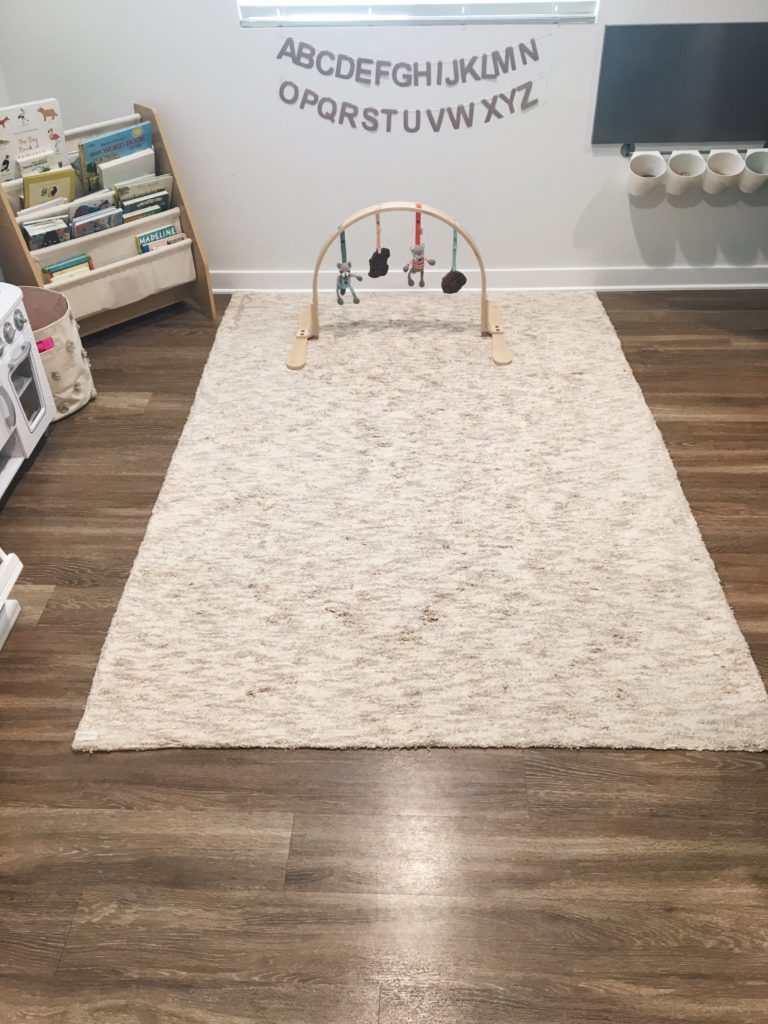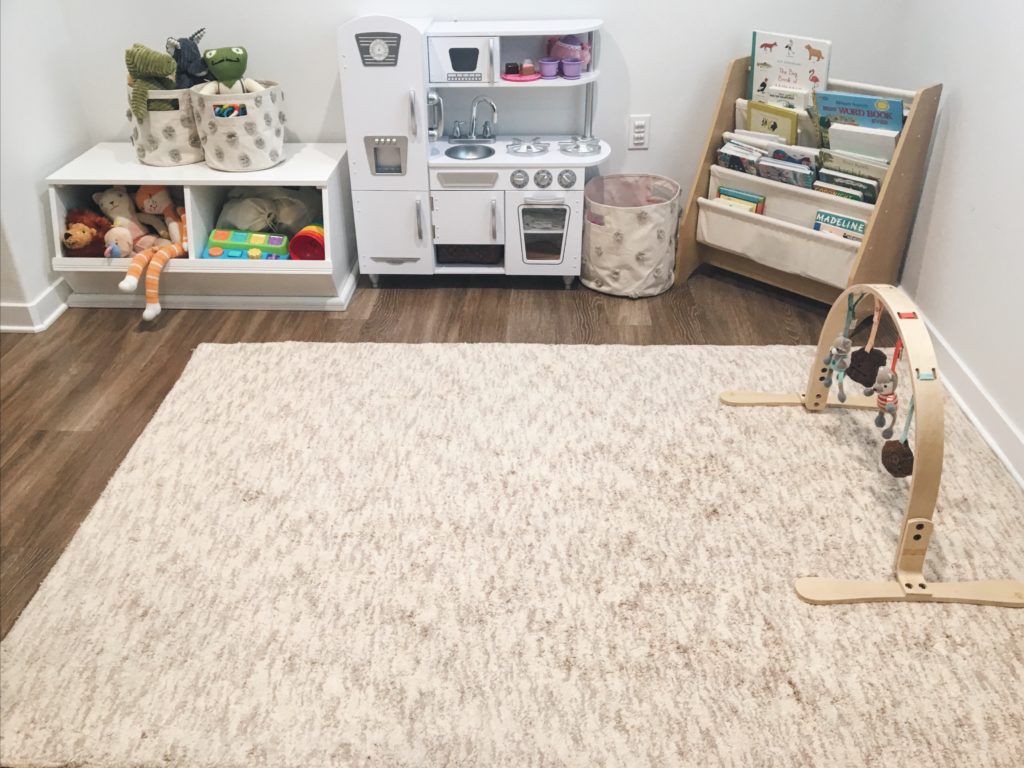 Isn't it beautiful, you guys? It's like a breath of fresh air! I of course kept our amazing rug from Lorena Canals as the centerpiece for the area. Remember how I mentioned before that it is machine washable? Seriously so brilliant for a kids play area. I went ahead and linked most of the bigger items in the play area at the end of the post if you're curious, but in case you wanted to know the magnet board is from IKEA for less than $13 and it's the perfect toddler size.
I used the adorable new bins to keep things a bit more organized and tidy. Elouise is at the age where she can understand where things belong and put them away, usually with some help and direction. I have the two small bins holding all of baby brother's toys so she knows that they are off limits. I also set up the sweetest little play gym for baby boy from Finn + Emma. Once I saw these beauties, I just knew I had to get my hands on one, they are natural wood and gorgeous to look at, I don't even mind having it out. Then I have the large bin holding her building blocks, it sits on the floor and is easy for her to grab and bring to the rug. We got rid of the table for now, the punching guy, the walker, and some of the other toys that Elouise hasn't been as interested in lately. They will be pulled out later when baby boy is ready to play. We also got rid of a ton of little odds and ends that were just cluttering things up. I feel so much better now that everything in the play space is intentional and organized. Now let's just see if I can keep it that way for a month.